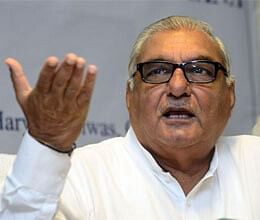 A Nuclear University will be set up in Haryana soon at a cost of Rs 2,200 crore, chief minister Bhupinder Singh Hooda on Saturday announced.
Prime Minister Manmohan Singh will lay the foundation for the institution on January 3, Hooda said, while addressing the Platinum Jubilee function of Atmanand Jain (Post-graduate) college here.
Hooda said he would give Rs 21 lakh from his contigency funds for the construction of multipurpose gymnasium hall at the college.
Urging people to educate their children, he said that today only that country, society or state would progress which will excelled in education.
Referring to the special attention given to education in the state, Hooda said Haryana would become an international hub for education in the next five to seven years.