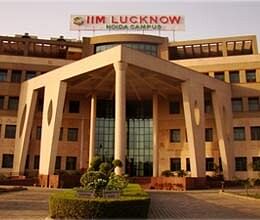 The first batch of Indian Institute of Management (IIM)-Lucknow graduates will have a reunion at an alumni meeting at the Sitapur Road campus in Lucknow on December 24-26, an official said on Friday.
The reunion of the batch of 1987 has been planned along with the reunion of the prestigious institute's batches of 1992, 1997, 2002 and 2007, an IIM-Lucknow official said. This is the first time that the graduates of 1987 and 1992 post-graduate programmes will step into the 200-acre Sitapur Road campus, as earlier their classes were held in a makeshift campus at the Giri Institute here.
"We have tried to make this homecoming as memorable as possible. These alumni have been away from us for 25 years," Professor Devashish Das Gupta, chairman, alumni affairs, said. According to the institute, more than 200 alumni are expected to visit their alma mater.
Besides, some former directors and faculty members will also be present at the alumni meet. Events like 'Back to Classroom' and 'Re-graduation Ceremony' have been planned during the get together. Devi Singh, director, IIM-Lucknow, will inaugurate the alumni meeting.