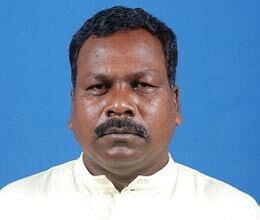 Suspended BJP MLA Bhimsen Choudhury today passed the annual high school certificate examination with first division marks.
Chodhury, who appeared for the examination this year at Raja Dharanidhar High School at Bonai in Sundergarh district, scored 360 marks out of total 600 marks.
51-year-old Choudhury represents Bonai Assembly seat reserved for tribal candidates in Sundergarh district. He had attended the examination as an ex-regular candidate, an official of the Board of Secondary Education (BoSE) said.
The BJP lawmaker appeared the examination along with other students after skipping the budget session of the Assembly.
Choudhury was suspended from BJP on charges of defying the party whip in the last Rajya Sabha elections. He was accused of deliberately abstaining from the RS elections to pave way for victory of ruling BJD candidate. Choudhury, has however, denied the charge.