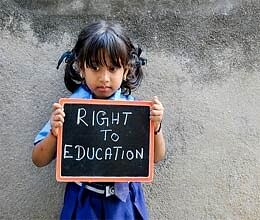 With an average of 82 students per classroom and one teacher for 57 students in schools in Bihar, there is an urgent need to strengthen the implementation of Right to Children to Free and Compulsory Education Act here.

As per the findings of a study commissioned by State Commission for Protection of Child Rights and UNICEF, based on a sample study of 375 schools across 38 districts of the state, Bihar lagged on different counts of infrastructure and basic facilities like kitchen shed, library, playground, sanitation, free text books and potable water facilities.

The study report released by state Education Minister P K Shahi, was aimed at gauging implementation of "Right to Children to Free and Compulsory Education Act, 2009" in the state to identify areas to strengthen execution of the Act.

As per the report, the average student classroom ratio (SCR) across schools in Bihar was found to be 82 indicating a significant load of students per classroom, which is 30 at national level.

Similarly, the average Pupil Teacher Ratio (PTR) was found to be 57, higher than the RTE (right to education) and all India count of 30 as per official statistics for 2011-12, the report said.

Shahi said due to sustained efforts in the last two years, improvement has been brought in the field of education but still a lot needed to be done.

He said to manage the teacher-pupil ratio, the state government would be recruiting more teachers soon.