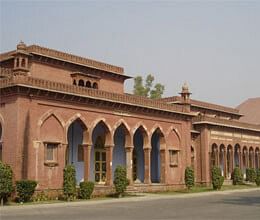 Motorcycles will not be permitted in the Aligarh Muslim University campus from the next academic session, the varsity's vice chancellor, Lt. Gen. (retd) Zameer Uddin Shah, said Saturday.
He added that "motorcycles have become a major menace" as criminal elements are operating in "motorcycle gangs".
He said that he was writing to all parents of hostellers "not to permit their wards to bring motorcycles to the campus" and that the "motorbike culture" was exacerbating class-conflicts between the rich and the poor students at the campus.
The vice chancellor said that if a male student brings a motorcycle or a scooter to the campus, he would not be provided hostel accommodation.
In an open letter to all faculty members and students, he stated that if a student can afford a motorcycle, he can also afford to live outside the university campus.
He clarified that this restriction will not apply to female students.