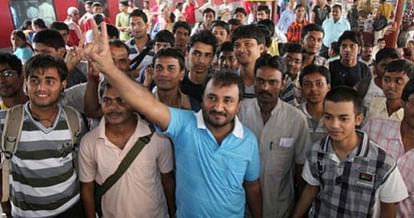 Carrying forward its legacy, 28 out of the 30 students of ''Super 30'' institute have cracked the prestigious
IIT entrance examination
, results of which were declared today.
''Super 30'', a brainchild of noted mathematician Anand Kumar founded in 2002, provides free of cost IIT coaching to students belonging to economically weaker sections of the society. The students are also provided with free fooding and lodging.
"The 28 students of Super 30 who cleared the IIT-JEE (Advanced) are all children who belong to deprived section of the society," Kumar said.
"Many a time my family had to go without food," said an emotional Rampyare, a labourer from Uttar Pradesh whose son Bhanu made it to the IITs with the help of ''Super 30''.
Pranav Kumar from Samastipur, son a landless farmer, was also among the 28 lucky students along with Ankit from Hajipur, who lost his father last year in a road mishap, and Abhishek Kumar, whose father is a mechanic.
"Somehow, I got to know of Super 30 and managed to clear its screening test. Here, I seemed to have found my new father, as Anand Sir and his family looked after me in such a way that I never felt like being away from home," Ankit said.