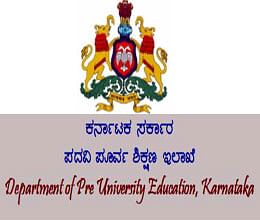 The Department of Pre-University, Government of Karnataka is the organization for implementation of higher secondary education in the state. We function under the Department of Primary & Secondary Education.
There are 1202 Government Pre-University colleges, 637 Aided Pre-University colleges, 1936 Unaided Pre-University colleges, 165 bifurcated Pre-University colleges & 13 Corporation Pre-university colleges.

After passing out the class 10th examination every year about 10 lakhs students enroll in the 2 year Pre-university courses. The courses offered by the Department are broadly classified under the categories of Humanities (Arts), Science & Commerce. There are 23 subjects, 11 languages and 50 combinations in the Pre-University curriculum. In 2010-11, there were 4,43,185 students in Humanities in I & II PUC, 2,47,421 students in Science in I & II PUC & 2,77,189 students in commerce in I & II PUC.