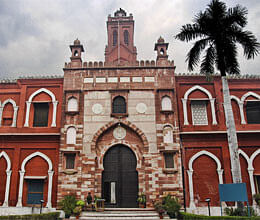 A research scholar of
Aligarh Muslim University
, a former resident of a riot relief camp in Gujarat, has been granted the prestigious Presidential scholarship by Illinois Institute of Technonlgy, Chicago.
Sheth Zulfikar Yousuf, who hails from a modest background in Himmatnagar of Gujarat and got the USD 1.2 lakh scholarship is also a past recipient of the SEAL Award in 2012 by the northern Virginia University of the United States, a varsity release issued here said.
"I don't want to give a political colour to my studies because the driving ambition of my life is to bridge the cultural and social gap which is currently prevailing in Gujarat..."Yousuf, who is presently carrying out his PhD research on "Gujarat Economic Model", told PTI.