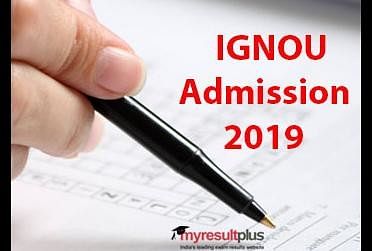 IGNOU further extends admission date for UG, PG and Diploma Programmes for July 2019 session up to September 30, 2019. The last date of submission of Online and Offline admission form for all UG programmes except BCA, all PG programmes except MCA and MTTM  (Master of Tourism & Travel Management), and Diploma  Programmes for July 2019 session has been further extended up to 30th September 2019.
Please note that the extension of the last date is applicable only for Post Graduate (except MCA and MTTM), Under Graduate (except BCA) and Diploma Programmes. The last date for the Certificate and Semester Based Programme (MCA, BCA and MTTM) has not been extended.   
The online submission can be done through the link; 
onlineadmission.ignou.ac.in/admission
The examination forms for December 2019 Term End Examination (TEE) has begun by the Indira Gandhi National Open University (IGNOU). The last date to fill the application form is October 5, 2019. The candidate who misses the deadline can fill forms till October 20 with Rs 500 late fine.
Dates for Submission of Online Term-end Examination form:
| | | |
| --- | --- | --- |
|   Period of Submission | Amount of Late Fee |   Mode of Submission |
|   Sep 5, to Oct 5,  2019 |   NIL |   Online |
|   Oct 6 to Oct 20, 2019 |   Rs.500 |   Online |
|   Oct 21 to Oct 31, 2019 |   Rs.1000 |   Online |
|  Nov 1 to Nov30, 2019 |   Rs.1000 | By hand in hard copy along with demand draft to be submitted at concerned Regional Centres subject to the availability of Question Paper |
The process to submit the Term End Examination Form
- Select the Examination Centre Code from the options available on the website. For Regional Centre wise list of Exam centre. 
- Choice of exam centre - Students while filling the examination form have also option to select three choices of Exam centre from the same Regional Centre.
- Select the course(s) carefully while filling the Examination Form as per your valid registration details available in IGNOU website. Courses for theory as well as practical needs to be selected separately from the list appearing on the screen for filling the Exam form.