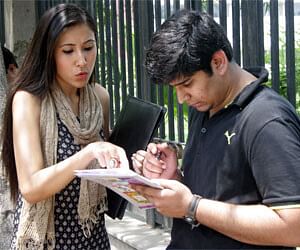 The Indian Navy has tied up with Jamia Millia Islamia for awarding graduation degrees to naval personnel for their in-service training.


Navy conducts training programmes for its sailors at centres across the country.

A Joint-Equivalence Committee, with members both from Jamia and Navy, was constituted for credit determination for all theoretical and practical components of academic-cum- training programmes in the Indian Navy.


The admission to Jamia courses would be through the Centre for Distance and Open Learning that will lead to awarding of degrees on fulfillment of statutory requirements.


The recommendations of JEC were approved by Vice Chancellor Talat Ahmad, in his office, in the presence of Vice Admiral A R Karve, Chief of Personnel yesterday.

The eligible sailors would now be able to enroll in the programmes from July 16 for academic year 2016-17.


Karve observed that it was a historic moment for the Indian Navy to enter into collaboration with Jamia and said this MoU would benefit the sailors immensely besides establishing a long term relationship with the university, a statement by the Navy said.

Terming it as a proud moment, Ahmad said the two institutions could work together to mutually benefit both Naval personnel and Jamia students.