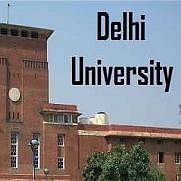 This year, the path of the University of Delhi for the meritorious candidates of the UP Board will be tough. This time, the merit performance of the UP board has lacked behind Delhi University's high merit list. In the general category, Merit of Delhi University generally goes above 95. This year, Kanpur 12th topper has got 90.40 marks. This shows a lot of difficulty in terms of Delhi University admission.
In the last year, Science stream's merit was 95 per cent, Commerce Group's stream 94 per cent, and Arts stream had the merit of 95 per cent in different disciplines. This time UP board, the list of top ten in the 12th includes children with 87 per cent, mostly in the science category. Principals have blamed the evaluation process. They say that due to evaluation the student will miss the admission in the good college.  
Ram Milan Singh, Principal of Omkareshwar Saraswati Vidya Niketan School said that when the Topper has 90 per cent marks, then the other students' marks can be guessed. DU's Merit List is very high. This year level of evaluation has been very poor.
Dr Rakas Awasthi, Principal of Paritosh Inter College, says that evaluation has been questioned many times. As such, the students of the UP Board get lesser marks than other boards. Dr Mamta Tiwari, Principal, BND Education Niketan said that the scrutiny fee has also been increased, the assessment process is also poor. In such a way, how the trust on the board can be maintained.
Related Articles

on Admission Diary