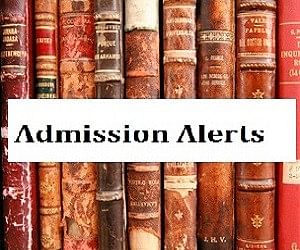 The Ambedkar University of Delhi (AUD) has announced admissions to various undergraduate (UG) programmes at its Kashmere Gate campus and Karampura campus.
Online registrations for the programmes offered at its Kashmere Gate campus began today and on-campus registrations would start on May 28, a notification issued by the university said.
It added that the registrations would close on June 23.
The first of the six cut-off list for the UG courses at the Kashmere Gate campus would be announced on July 9 and the final one on July 26, the notification said.
"In case the seats remain vacant, the seventh or subsequent cut-off list, if any, will be announced on the website," it added.
At the Karampura campus, online registration for all the Bachelor of Vocational Studies programmes (BVoc in Tourism and Hospitality, BVoc in Retail Management and BVoc in ECCME) began today.
On-campus registrations will begin on May 28 and both modes of registration will close on June 23.
"On June 25, a list of the eligible applicants for the entrance examination to different BVoc programmes will be displayed and the exam will be held on June 27, from 10 am to 12 noon," the notification said.
Interviews will be held on July 3, 4 and 5 and the first-admission list will be announced on July 9, with the fifth and final list scheduled to be out on July 21.
Registrations for UG programmes at the Karampura campus will start from the first week of June, the notification said.  
Related Articles

on Admission Diary