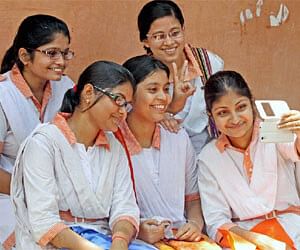 The WB Board will be announcing the results of class 12th 2017 or the Higher Secondary Result 2017 in the third week of the month of May 2017. If we refer the past two years of 2016 and 2015, the class 12th results were declared on 16th May 2016 and on 29th May 2015 respectively. This year in 2017 it is expected that the results will most likely be out around third week of May 2017 like last year.
The students will beable to view the updated results on this website as soon as the results are declared. It is advised to the students and their parents to keep checking this website to see the results. The WB board also posts the result of the Intermediate exam on their own official website too. This year it is expected that around 5.5 lac students will be writing their class 12th examinations.
The students of the WB Board have always tried their best to outperform and hence the percentage of passing students have been increasing year by year. The WB Board has been efficiently conducting the examinations for 10th and 12th class since many years. The only focus of the WB board is to prepare and educate the students so that they have a successful career and life ahead.
How to check the results of WB Board class 12th Exams?
Every year lac of students check the online portal to get their results. The process of checking the results is non cumbersome and extremely simple. All the student has to do is to enter either his name or roll number or district or school, whichever is applicable. The students will be able to check their subject wise marks as displayed on the screen. The marks displayed will be final and cannot be changed under any circumstances unless the student plans to apply for a scrutiny.
The students are advised to check the website frequently to get their results as and when they are declared.