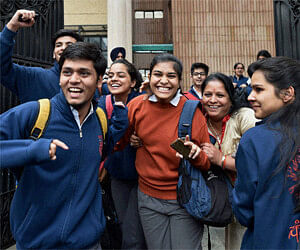 Dear Boys and Girls and their parents, the  time has finally come when All the Boards from different states are publishing their Exam Results. Next in the line are Uttarakhand Board Results and CBSE Board Results. The two big results of prominent  board which will be announced on May 25. The Uttarakhand Board results would be live on
results.Amarujala.com
and mind it this will be the first of all.
All the Board students who wrote their paper and patiently waiting for their exam results are advised to check their results on our website. If you want a barrier free results then it has become much easier for you to avail the same facility. Being the largest network in North India, Amar Ujala covers almost a heavy area in the states of Uttarakhand where our presence keeps worth.
This is a piece where we will let you know that how you can be the first person to access your Uttarakhand Board Results on our website. Dear Boys and Girls tighten your seat belt, bring out your Roll Number/Roll Code and some of the Basic Information noted in your Admit Card. Just note it down somewhere and visit our dedicated Board page of Uttarakhand and CBSE Board to access your results.

How to access Uttarakhand Board Results :
There is no need to go down the different wires to access your Uttarakhand Board Results 2016. Just stitch to our website where you would get the boards results first of all. There are some of the websites which may ditch you on the name of Board Results. Just be wary of such websites, stay away from redirections from one to other page. We promise you to provide UBSE Results 2016 in best possible way where you can not only access your uttarakhand board 10th result but also share the same or whatsapp it to your friends, family, kith and kin and loved ones.
Preregister to get Board Results :
As promised we have come up with a facility to provide you Board Results on Mobile and Email. Here are some valuable tips to be on your toes and access your Board Results.To avoid rush and a better access to exam results, We have come up with a facility of "Get Results on your Mobile & Email" where everyone can register to get an easy access to academic results. It is a completely free and easy to access facility where students need to enter their essential information like ; Name, Board Name, Roll No, Mobile No, E-Mail, City and State. Once registered you will be sent an automated confirmation message for the same. When the Board results will be out, the registered users will be communicated their results via mail and message.