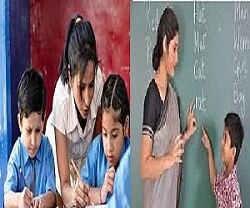 New Delhi
At a time when students are eagerly waiting for their Uttar Pradesh Board results, teachers at government-run primary and upper primary schools across the state will start getting salaries as per the recommendations of the seventh pay commission by the end of May.
The teachers in about 1.60 lakh schools across the state will get a salary hike, which will range between Rs 5,733 and Rs 13,674, depending on their pay scale. The arrears from January 2016 to April 2017 will be paid in two instalments in the financial years 2017-18 and 2018-19, reports Hindustan Times.
The report comes after the UP board issued an official statement that the results of class 10th and 12th would be not be released in the month of May.
The result, after formal declaration, will be available for students to download. Students can check results on our website.
Simple steps to check the result:
Step 1: Click on the option below.
Board of High School and Intermediate Education Uttar Pradesh Allahabad
Step 2: Enter Roll Number.
Step 3: Click on Submit option.
Step 4:The result will pop up on the computer screen.