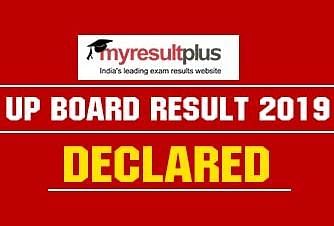 Gautam Raghuvanshi of Kanpur, who topped the state with 97.17% marks in UP Board's 10th exam, wants to do engineering from IIT. Gautam Omkareshwar, a resident of Vijay Nagar is a student of Saraswati Vidya Niketan Inter College, Jawahar Nagar.
Gautam explains that since childhood, he has studied with the aim of being at the forefront. Gautam believes that if you have the desire to get something inside you then success will definitely get you. Gautam does not like politics very much. It is said that at the moment, his focus is on studies.
Father Dhiraj Kumar is a clerk in the Kanpur Development Authority (KDA). Mother Nirmala Raghuvanshi is a housewife. The elder sister has been married, while the other sister is preparing for the Inspirational Medical Admission Test. This achievement of Gautam is a wave of happiness throughout the family.
Favourite Subjects:
Gautam's favourite subjects are science and mathematics. It is said that whenever they get a chance, they try to solve the difficult questions of mathematics. Despite being in 10th, try to solve 12th and bachelor questions.
Subject Wise marks:
Hindi:
97
English:
98
Mathematics:
98
Science:
99
Social Science:
92
Art:
99
Gautam says that to strengthen the country it is most important that children and youth get a good education. According to Gautam, all government and private schools should focus on good education.
Gautam says that the ability of the in-the-counter students to develop does not develop. In such a situation, they have to face unemployment. Therefore copy should be stopped at all costs. Not only the role of government, but the role of students and their families should be important.  
Gautam has worked hard to get good marks. He explains that to prepare for the exam, the cousin did not even go to the marriage. Even during nine days of fasting in Navratri, studies did not stop.
Chief Minister Yogi Adityanath tweeted
Tweeting the Chief Minister Yogi Adityanath said that many best wishes to Gautam Raghuvanshi of Kanpur and Top Shiva and Tanujya Vishwakarma of Barabanki who topped the UP board exam in 2019.
God is praying that the progress of life should continue progressively on the path of progress and preserve the paradigm of success.