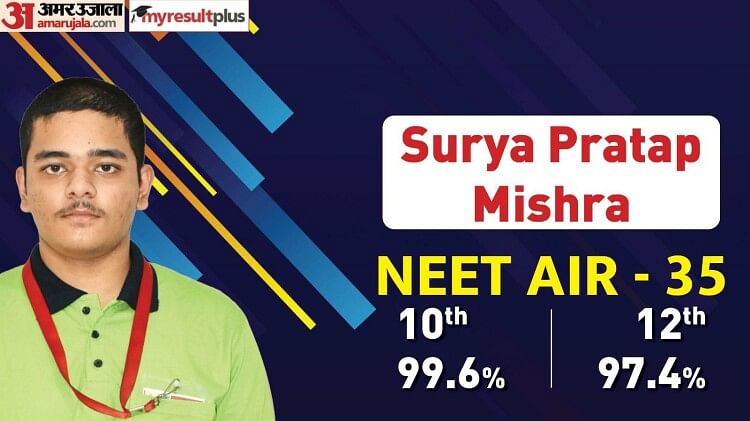 NEET UG 2023 Result:
The result of the NEET UG exam 2023 has been released. Surya Pratap Mishra from Odisha has secured the All India 35th rank. Candidates can check the NEET UG 2023 result on the official website, nta.neet.nic.in.
Prabanjan J from Tamil Nadu and Bora Varun Chakraborty from Andhra Pradesh have topped the NEET UG 2023 exam with 99.99 percentile scores. Out of a total of 20.38 lakh registered candidates, 11.45 lakh candidates qualified for the exam.
Want to Become a Neuro Surgeon: Surya Pratap Mishra
Suryapratap Mishra has achieved an impressive All India Rank of 35 in NEET. Inspired by his father, Dr. Sanjeev Kumar Mishra, a paediatrician at a government hospital, Surya admires his father's hard work and compassionate patient care. Intrigued by the field of surgery, Surya finds joy in hearing the experiences of his relatives who work in surgical specialties, fueling his ambition to pursue neurosurgery.

Surya believes that concentration and focus are key elements in achieving success. When studying at home, he creates a quiet environment in his room to ensure optimal focus. In addition to coaching classes, Surya dedicates eight hours to self-study every day. He expresses gratitude for the support he has received from the faculty.

Surya follows a unique study pattern, devoting mornings to physics, nights to biology, and focusing on chemistry during the day. He organizes his physics notes in a separate notebook for easy reference, while underlining important topics in biology to facilitate quick revision.

During study breaks, Surya spends time with his younger brother, engages in activities like badminton and chess, and watches motivational videos or informative content on YouTube. He admires South Indian actor Prabhas and holds a special appreciation for his movie "Baahubali."

Surya is also a scholar of the National Talent Search Examination (NTSE) and has set his sights on pursuing MBBS from AIIMS Delhi. He excelled in academics, with a remarkable 99.6% in class 10th and 97.4% in class 12th.

Surya's father, Dr. Sanjeev Kumar Mishra, serves in the paediatrics department at a government hospital in Angul, Odisha, while his mother, Sangeeta Mishra, is a homemaker.
NEET UG 2023 Qualified Candidates
Out of 20.38 lakh candidates, a total of 11.45 lakh have qualified for the exam. NEET UG 2023 was conducted in English, Hindi, Assamese, Bengali, Gujarati, Kannada, Malayalam, Marathi, Odia, Punjabi, Tamil, Telugu, and Urdu.

NEET-UG, the National Eligibility cum Entrance Test for undergraduate courses, serves as a qualifying entrance examination for admission to various medical and health programs.
Also Read:
NEET UG 2023 Result Released at nta.neet.nic.in, Toppers List, How to Download Score Card