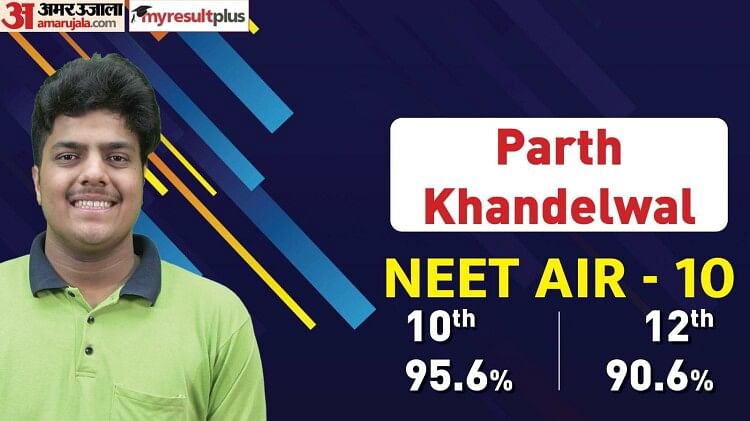 NEET UG 2023 Result:
The result of the NEET UG exam 2023 has been released. Parth Khandelwal from Jaipur has secured the All India 10th rank. Candidates can check the NEET UG 2023 result on the official website, nta.neet.nic.in.
Prabanjan J from Tamil Nadu and Bora Varun Chakraborty from Andhra Pradesh have topped the NEET UG 2023 exam with 99.99 percentile scores. Out of a total of 20.38 lakh registered candidates, 11.45 lakh candidates qualified for the exam.  
Hard Work and Regularity is Success: Parth Khandelwal
Parth Khandelwal has secured All India Rank 10 by scoring 715 marks in NEET. Parth believes that if the company is good, then all will be well for you. "I found good friends, faculty, and family at Allen. My elder sister, Jhanvi Khandelwal, inspires me. She is currently pursuing MBBS from SMS Jaipur."

Parth lives in Banipark, Jaipur. His father, Sudhir Khandelwal, is a merchant of dry fruits, and his mother, Ritu Khandelwal, is a housewife.

Parth says that hard work and regularity are the keys to success. "I used to go to Allen at 10 in the morning and stay there until 10 at night. The support of the faculties was very good. I don't study by looking at the clock; I used to think that whatever topic I had time to study, I would start studying it. I get refreshed by talking to friends. Sometimes discussing the subject and sometimes laughing at jokes recharge me. I am an NTSE scholar and secured the 33rd rank overall in Stage-1. I got Rank-1 in STSE. Biology is my strong point, which is why I made up my mind to give NEET. I get inspired by my failures. My percentage dropped in one exam, but after getting the lowest score, I resolved to work harder and never let the score drop again. Currently, my goal is to do MBBS at Delhi AIIMS. After that, I want to specialize in neurology or cardiology.
 
NEET UG 2023 Qualified Candidates
Out of 20.38 lakh candidates, a total of 11.45 lakh have qualified for the exam. NEET UG 2023 was conducted in English, Hindi, Assamese, Bengali, Gujarati, Kannada, Malayalam, Marathi, Odia, Punjabi, Tamil, Telugu, and Urdu.

NEET-UG, the National Eligibility cum Entrance Test for undergraduate courses, serves as a qualifying entrance examination for admission to various medical and health programs.
 
Also Read:
NEET UG 2023 Result Released at nta.neet.nic.in, Toppers List, How to Download Score Card