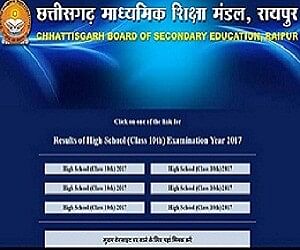 New Delhi
Chetan Agrawal is the highest scorer in the Chhattisgarh Board of Secondary Education (CGBSE) Class X Exam 2017.
Chetan, student of Kiran Public H S School, Kurud (Dhamtari) obtained 98.17%.
Vinita Patel, who stood second by scoring 97.67%, is a student of Saraswati Shishu Mandir High School, Masturi.
While 4,42,060 candidates are expecting to receive their CGBSE 10th Result 2017, a total of 4, 11,367 students appeared for their class X board exam last year.
Hemant Kumar Sahu, son of a farmer, Raigarh bagged the top spot in Class 10 results declared by CGBSE in 2016. He topped the CGBSE 10th result scoring 594 with 99 percent.
Akriti Rathore and Suruchi Sahu from Jangir secured second position with 97.50% marks last year.