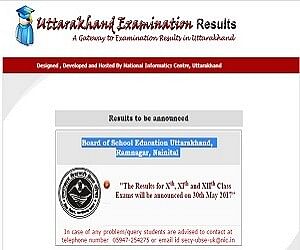 New Delhi
Uttarakhand Board of School Education (UBSE), also known as UK Board, declared the Class 10th Result and Class 12th result 2017 today, May 30.
"The Results for Xth, XIth and XIIth Class Exams will be announced on 30th May 2017," read a notification on the UBSE's official website.
However, the exact time of result declaration is not known. Media reports say it could be out at 11 am.
While this year nearly 3 lakh students appeared for the Uttarakhand Board of School Education's Class 12 and Class 10 board examination, the candidates may follow step-by-step guide below to check their UK Board result.
Simple steps to check the results:
Step 1: Click on the option below.
Uttarakhand Board Of School Education
Step 2: Enter Roll Number.
Step 3: Click on Submit option.
Step 4: Wait for a few seconds and the result will pop up on the computer screen.
Also Read:
Uttarakhand Board Class 10 Results 2017: How and where to check scores
The notification on UBSE's official website pointed out that in case of any problem/query students are advised to contact at telephone number 05947-254275 or email id secy-ubse-uk@nic.in.
Students not satisfied with the result, can opt for rechecking or reverification. Results of these will take 10-20 days.
Note: My Result Plus team wishes all the students best of luck.
Also Read:
Uttarakhand Board Class 12 Results 2017: How and where to check scores
Written By Shaheryar Hossain