LIVE: HPBOSE 12th Result 2019, 16102 Students To Appear For Compartment Exam
News Desk
Updated Mon, 22 Apr 2019 12:48 PM IST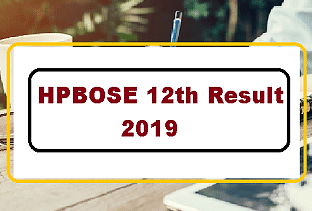 HPBOSE Class 12th Result 2019 update: HPBOSE Class 12th Result 2019 has been declared now. Check at hpbose.org
The students who appeared for the exam can check the latest updates here.

12.46 am: HPBOSE 12th Result 2019, More Than 16 Thousand Students To Appear For Compartment Exam

11.54 am: HPBOSE 12th Result 2019, Priety Birsanta Tops Commerce Stream with 98.8%

11.27 am: HPBOSE 12th Result 2019 Declared, Download your Marksheet at results.amarujala.com/board/hpbose

11.10 am: HPBOSE 12th Result 2019 Delayed by 10 mins, Click here for Details

10.40 am: HPBOSE 12th Result 2019 Will be Out in Another 20 minutes, Stay Tuned 

9.500am: Board official confirms, result to be announced at 11 am 

8.45 am: Result awaited by around 1 lakh students 

8.00 am: HPBOSE Class 12th Result 2019 to be declared today.

HPBOSE Class 12th exams were conducted from March 6 to 28, 2019.

These are the simple steps to check the HPBOSE Class 12th Result 2019 online:
HPBOSE class 12th Result 2019: Steps to check

Step 1: Click Here HP Board Result 2019
Step 2: Go the HPBOSE 12th Result 2019 option
Step 3: A new page will open
Step 4: Enter the required information
Step 5: Download scores.

The result of the 12th came on April 24 last year (2018)

To Read this information in Hindi, Click Here: result-hpbose-results-2019
To read the news in
Hindi Click Here
Related Articles

on Results Alert

Amar Ujala Results website aims to cater to the latest Board, University and Sarkari Naukri Results; along with the latest notifications, on Admit Card, Answer Key, Counselling dates and Career/ Exam Preparation tips. Register on Amar Ujala Results Website for fastest results on UP board, Uttarakhand board, Jharkhand board, Himachal Pradesh board, Haryana board, AP (Andhra Pradesh) board, WB (West Bengal) board, and Gujarat board exams.
© 2022-23 Amar Ujala Limited. All Rights Reserved.