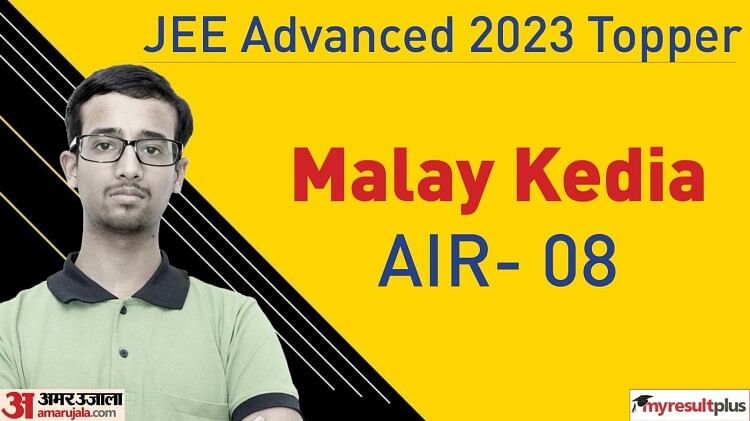 JEE Advanced 2023 Result: The result of the JEE Advanced 2023 has been released. Malay Kedia has secured the All India 8th rank. Candidates can check the JEE Advanced 2023 result on the official website, jeeadv.ac.in.
Doubt-Solving Strengthened the Hold on the Topic: Malay Kedia
Malay has secured All India Rank 08 in JEE Advanced 2023 and will pursue a B.Tech. in the CS branch at IIT Mumbai. Reflecting on his success, Malay credits his achievement to the guidance provided by the faculty. While clearing the theoretical concepts in physics and math was crucial, Malay placed greater emphasis on practice. In chemistry, he focused on the NCERT syllabus and dedicated himself to repeated question practice, which bolstered his confidence.

Malay expresses gratitude to his parents and mentors for their unwavering support and motivation throughout his journey. Weekly tests and regular doubt-solving sessions played a pivotal role in improving his performance and solidifying his understanding of the subjects. Post his B.Tech., Malay aspires to pursue research in physics.

Originally from Ghaziabad, Uttar Pradesh, Malay had previously achieved outstanding results, scoring a remarkable 99.99 percentile in the JEE Main January 2023 session and securing All India Rank 4 with a perfect score of 300. He also excelled in the 10th grade with 99 percent marks and holds the distinction of being an NTSE scholar.

Additionally, Malay achieved All India Rank 6 in the KVPY SA stream and won a silver medal in the Astronomy Olympiad. Recently, he successfully participated in the OCSC camp of ICHO, earning the opportunity to represent India in the upcoming ICHO, scheduled to be held in Switzerland from July 16 to 15. Malay has also been selected to attend the International Science School organized by the Harry Messel International School in Sydney, Australia's capital.
 
Also Read:
JEE Advanced Result 2023 Released: VC Reddy Tops, Check Cut Off, Toppers List, How to Check Result