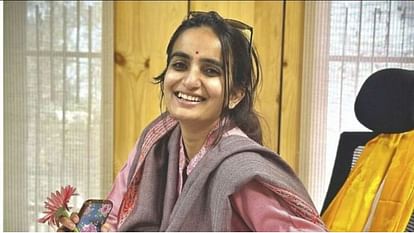 Gandharv Rathore UPSC Success Story: Gandharva began preparing for the UPSC Civil Services Examination while still in college. Eventually, on her second attempt in 2016, she achieved a remarkable feat by securing 93rd place in the UPSC Civil Services test.
IAS Gandharva Rathore: UPSC CSE Success Story
The Union Public Service Commission (UPSC) exam is renowned as one of the most challenging in the world. Each year, millions of students take the UPSC Civil Services Exam, driven by the desire to achieve their dreams. However, among the lakhs who attempt it, only thousands are chosen, and an elite few earn the prestigious IAS and IPS positions. The hard work of these talented students is truly recognised when they successfully clear this demanding examination. One such inspiring individual is Gandharva Rathore, an IAS officer from the 2016 batch, whose success story can serve as a powerful mantra for future aspirants.
 
Schooling in Jaipur, Graduated from SRCC, DU
Originally from Jaipur, Rajasthan, Gandharva Rathore completed her schooling in the same city. In 2013, she graduated from Shri Ram College for Commerce (SRCC), University of Delhi. Following this, she pursued her post-graduation, which she completed in 2015. Soon after, she began dedicating herself to the rigorous preparation for the UPSC Civil Services Examination. Her perseverance and dedication bore fruit in 2016, when she successfully cleared the UPSC Civil Services Examination on her second attempt, securing an impressive 93rd rank.
 
In the First Attempt, She Fell Short by 2-3 Marks
During her first attempt at the prelims, Gandharva missed 2 to 3 marks. To improve her performance, she sought advice from various aspirants, friends, and successful candidates to identify areas to focus on and how to allocate her study time effectively.
 
Passed UPSC Civil Services Exam Without Coaching
A visit to Mukherjee Nagar in Delhi would reveal the significance of coaching for this test, with posters advertising numerous coaching institutes on every door. However, Gandharva Rathore stands as a shining example of an administrative official who achieved success without any coaching. Instead, she visited coaching institutes and bookstores in Old Rajendra Nagar, Delhi, where she obtained the necessary notes for all topics. Gandharva diligently studied the curriculum and relevant study material for each subject. Additionally, she sought help from her friends, who were studying at different coaching institutes.
 
Prepared for the Pre-Exam, Considering Mains
According to Gandharva, aspirants should commence their preparation with the mains test in mind. She focused 80% of her time on preparing for the mains, dedicating the remaining half to the optional topic. According to her, the optional subject is crucial for passing the civil service test. Gandharva prioritised her preparation for Mains, Optionals, and Prelims.
 
"I am a positive person and firmly believe in my abilities. I remained optimistic throughout this journey." says Gandharva Rathore, IAS officer.
 
(Written By: Avantika Rana)