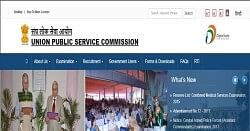 The list of candidates who have succuessfully cleared the Central Industrial Security Force Assistant Commandants (Executive) Limited Departmental Competitive Examination, 2017 has been released by Union Public Service Commission (UPSC) today.
While the exam was held on March 5, 2017, the interviews for Personality Test were conducted from July 3, 2017 July 5, 2017.
A total number of 07 candidates have been recommended for appointment as per the following break-up:
General - 06
SC - 01
ST- Nil
Appointment to the said post in the Central Industrial Security Force will be made according to the number of vacancies available and due consideration to the provisions contained in the Rules for the Examination. The number of vacancies reported by the Government for the year 2017 are as under:
General- 06
SC- 01
ST- Nil
The list of the successful candidates is available on UPSC website www.upsc.gov.in. Marks sheet is expected to be available on the website after around fifteen days from the date of publication of result for a period of forty-five days.