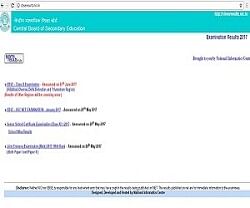 New Delhi
Central Board of Secondary Education (CBSE) has announced the Class 10 result 2017 today (3 June 2017).
"CBSE - Class X Examination - Announced on 03rd June 2017 (Allabhad,Chennai,Delhi,Dehradun and Trivandrum Region) (Results of Other Regions will be comming soon.)," read a notice on the board's official website.
While the Board declared the result with the help of National Informatics Centre (NIC), Department of Information Technology, Ministry of Communications and Information Technology, approximately 8 lakh students appeared for CBSE 10th exam this year.
"For the 20th consecutive year CBSE will be providing counselling services to students and parents to overcome common psychological problems and general queries related to Class X and XII results," reads the press note released by the board.
However, the students can check their results on our website.
Simple steps to check the results:
Step 1: Click on the option below.
Central Board of Secondary Education
Step 2: Enter Roll Number.
Step 3: Click on Submit option.
Step 4: Wait for a few seconds and the result will pop up on the computer screen.
Note: The entire team of My Result Plus wishes all the students best of luck for their results.