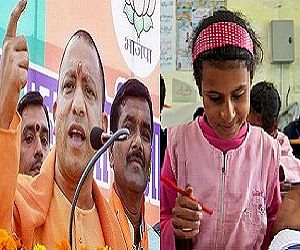 New Delhi
Three days before the declaration of UP Board Class 10 and Class 12 Results 2017, the Yogi Adityanath government in Uttar Pradesh has made National Council of Educational Research and Training (NCERT) books mandatory for all schools affiliated to the Uttar Pradesh Madhyamik Shiksha Parishad (UP Board) from the upcoming academic session.
"It is a bid to bring UP Board academic activities on a par with the CBSE. However, the task of providing textbooks to lakhs of students would be quite daunting. At present, over 35 lakh students study in around 23,900 government, aided and unaided schools affiliated with the UP Board," senior UP Board officials informed media.
The reports two months after Uttar Pradesh Chief Minister Yogi Adityanath directed officials to make Yoga education compulsory in government schools across the state.
According to reports, CM Adityanath issued an order to start mandatory self-defence training for girl students in government schools.
Highlights
CM Yogi Adityanath makes NCERT books must in schools.
Yoga education compulsory to be made compulsory in government schools in Uttar Pradesh.
Old courses should be scrapped new ones to be introduced as per requirement of modern times.
Government to start mandatory self-defence training for girl students.