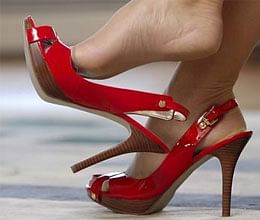 High heels may cause permanent injury, with most women suffering pain in just over an hour of wearing height-enhancing footwear, a new study has found.
Wearing the ill-fitted shoes can cause long-term damage including arthritis, stress fractures, and trapped nerves, which may even require surgery or steroid injections, consultant podiatrist Mike O'Neill warned. Researchers at The College of Podiatry, UK, found that almost half of women have suffered foot problems after wearing an uncomfortable pair of shoes, but 43 per cent will suffer in the name of fashion.
One third of women also admitted that they had worn heels they knew did not fit, simply because they "looked nice" – and could not find a pair in their size, The Telegraph reported. On average, high heels start to hurt after 1 hour, 6 minutes and 48 seconds, but a fifth 20 per cent started to feel the pinch within just 10 minutes.
As many as 28 per cent women said they have resorted to dancing bare foot in a nightclub or bar when they could not put up with the pain any longer. One third of them admitted to have been forced to remove their shoes and walk home barefoot because they could not bear the pain any longer. The study of 2,000 British adults also found that only 12 per cent of men have put up with stylish but uncomfortable shoes.
Researchers said that could explain why women are likely to have more issues with their feet, and are twice as likely to suffer from corns, cracked heels and bunions. A staggering 90 per cent of women have experienced problems and 20 per cent admitted they are "embarrassed" by their feet while 12 per cent are so ashamed they cover them constantly. As many as 19 per cent of women have refused to seek help despite these problems, because they believed their foot complaint was unimportant.