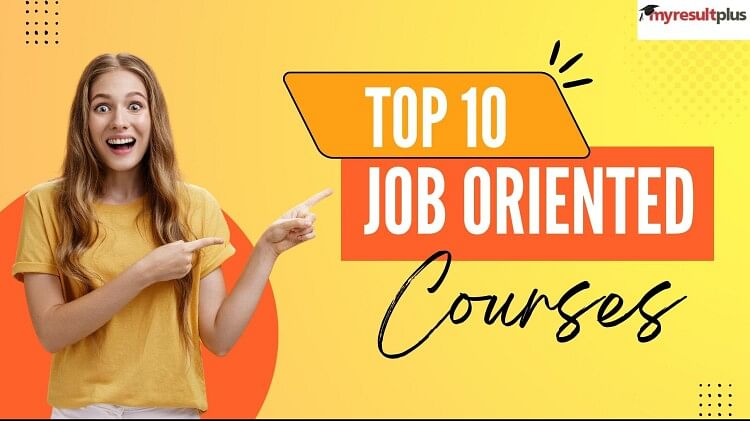 Job Oriented Courses: This article will explore the top 10 short-term, career-focused courses that can provide you with valuable knowledge and lead to exciting job prospects. These courses offer a quick and effective way to acquire in-demand skills that companies are seeking. Whether you're a recent graduate looking for practical skills or a professional aiming to change careers, these courses can help you achieve your goals.
Product Management Certification Programme
The demand for product managers has significantly increased in recent years. Companies are seeking product managers to ensure the success of their product launches and sustain continuous growth. These job-oriented courses are designed to provide a good return on investment in terms of career opportunities.
 
Business Analytics Certification Programme
This 3-month short-term course is specifically designed for those aspiring to pursue a career in Analytics. It provides comprehensive training consisting of instruction, including case studies and projects. Throughout the course, you will acquire valuable skills such as Statistics and optimisation, Predictive modelling, Machine Learning, and Business Problem Solving, among others.
 
PG Certification in Full Stack Development
When it comes to short-term job-oriented courses, one programme that stands out is Full Stack Development. Moreover, you will receive comprehensive support throughout the placement process. It provides a short-term opportunity to improve your skills and increase your chances of securing employment in this field. These projects will enable you to acquire skills in building robust and scalable websites, creating backend APIs, and developing interactive web user interfaces.
 
Certified Financial Planner Certificate Course
The Certified Financial Planner (CFP) credential is widely recognised and highly esteemed worldwide. It is regarded as one of the best short-term courses available for individuals interested in the field of finance. This course is specifically designed for those who aim to showcase their dedication and expertise in ethical financial planning practises. In India, the Certified Financial Planner (CFP) certification is issued by the Financial Planning Standards Board (FPSB) of India.
 
Certificate Course in Finance Accounting and Taxation
The Certificate Course in Finance, Accounting, and Taxation is designed for individuals who have completed their undergraduate degree in fields such as B.Com., BBI., BAF., or similar equivalents. The duration of the course can range from 1 to 6 months, depending on the institution offering it. This programme is highly beneficial for those seeking a career in accounting.
 
Advanced Certificate Programme in Data Science
Data Science has become a prominent trend in the tech industry, with companies and organisations across various sectors embracing its tools and solutions for innovation, productivity, sales growth, and customer satisfaction. This certification course is open to anyone interested in pursuing a career in Data Science, with the only requirement being a bachelor's degree. The programme has a duration of five months. Throughout this professional and job-oriented short-term course, you will gain in-depth knowledge of Statistics, Predictive Analytics using Python, Machine Learning, Data visualisation, and other relevant concepts in Data Science and Machine Learning. 

Course Duration: 7 Months
 
Advanced Certificate in Machine Learning and NLP
Machine Learning and Natural Language Processing (NLP) are rapidly growing technologies that are in high demand in the industry. Having expertise in these fields can make you a valuable asset to potential employers. The course covers essential concepts in Machine Learning and NLP, including Named Entity Recognition, Hidden Markov Models, Bag of Words, Topic modelling, and Information Extraction, among others.
 
Advanced Certificate in Blockchain Technology  
Similar to Data Science and Machine Learning, Blockchain technology is revolutionising various industries, including BFSI, healthcare, real estate, supply chain and logistics, FMCG, transportation, and government agencies. It has become one of the most sought-after tech skills in today's job market, offering high salary potential. This 6-month programme covers all the essential concepts of Blockchain, including Ethereum, Hyperledger, Smart Contracts, Fabric, Composer, advanced JavaScript, and NodeJS.
 
Advanced Certificate in Digital Marketing and Communication
The field of marketing has undergone a significant transformation with the rise of Digital Marketing. It has become an integral part of marketing strategies across industries. To stay ahead in this digital revolution, it's essential to acquire Digital Marketing skills. It covers various topics such as SEO, SEM, Social Media and Content Marketing, Branding, and Marketing Analytics.
 
PHP Certification
In today's market, Hypertext Preprocessor (PHP) Development is a highly sought-after skill. The demand for certified PHP Developers is on the rise. While having knowledge of JavaScript, HTML, CSS, and MySQL is beneficial, obtaining a PHP certification can give you a competitive advantage. The certification programme will cover PHP skills at various levels, including beginner, intermediate, and advanced. It will provide a comprehensive foundation in PHP development, covering topics such as Syntax, Operators, Variables, Control Structures, Namespaces, Extensions, configuration, Language Constructs, Functions, and more.

(Written By: Avantika Rana)