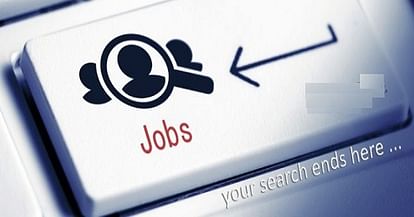 National Bank for Agriculture and Rural Development has issued a notification mentioning vacancies for Development Assistants. Interested candidates can apply on or before September 12. 
Instructions for application
Application Form
Before applying, candidates should ensure that they fulfil the eligibility criteria for the post. Candidates are advised to apply ONLY ONLINE through Bank's website www.nabard.org.
Helpline: In case of any problem in filling up the form, payment of fee or
download of call letter, queries may be made at http://cgrs.ibps.in
Don't forget to mention "NABARD Development Assistant Examination" in the
subject box of the email. 
Important Dates:
Website Link Open – Online
Registration and Payment of Online
Fees/Intimation Charges:                                August 27, 2018 to September 12, 2018  
Phase-I (Preliminary) – Online
Examination
Phase-II (Main) – Online Examination September / October 2018.                                               Exact dates of examination would be announced separately on NABARD's website www.nabard.org.
Educational Qualification
Bachelor's Degree in any discipline from a recognised University/Institutions with a minimum of 50% marks in aggregate (pass class for SC/ST/PWBD candidates).
All educational qualifications should have been obtained from Universities / Institutions incorporated by an Act of Central or State legislature in India or other
educational institutions established by an Act of Parliament or declared to be deemed as a University under Section – 3 of UGC Act 1956.
Exam instructions 
Mobile phones, bluetooth device, pagers or any other communication devices are not allowed inside the premises, where the examination is being conducted.
Any infringement of these instructions shall entail disqualification including ban from future examinations.
Candidates are not permitted to use or have in possession calculators in examination premises.
Candidates are advised in their own interest not to bring any of the banned item including mobile phones/ bluetooth devices/pagers to the venue of the
examination, as arrangement for safekeeping cannot be assured.
NABARD will not furnish the mark-sheet to candidates. However, the online examination marks and cut-off, etc. would be available on NABARD's website
after the recruitment process is complete.  
Note:
a. Candidates, who are released / retired from Armed Forces, or who are likely to retire/get released on or before 12.09.2019 only are eligible to apply under
this recruitment. They will also be required to submit the release letter along with a self-declaration at the time of joining NABARD that he/she is entitled to
the benefits admissible to Ex-servicemen in terms of Govt. of India Rules.
Those candidates, who have already completed their initial period of engagement and
are on an extended assignment are required to submit certificates to that effect.  If selected, all such candidates mentioned above, should get released on or before 12.09.2019.
b. The Territorial Army Personnel will be treated as Ex-Servicemen with effect from November 15, 1986.
c. The benefit of reservation to an Ex-Servicemen for purpose of re-employment in Government job on civil side shall be available as per instructions contained in
DoPT OM NO. 36034/1/2014 Estt (Res) dated August 14, 2014.