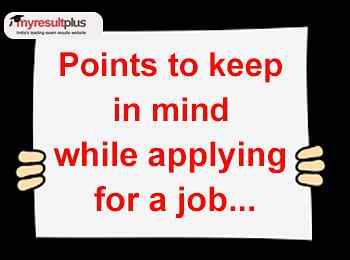 If we talk about our country, with an estimated population of 1.35 billion getting a suitable job in this country is a challenge.
Nowadays, the youth of every village or city is not left behind in acquiring various academic and professional degrees / diplomas / certificates.
Now, every year when millions of youngsters are getting a quality education, and are entering the country's job market as well as a large number of professionals try to make changes in their job / career, then Who can avoid the bitter truth of job crunch?
The situation:
In India, According to current information, approximately 31 million young people are unemployed and the total jobs available in the job market this year will be 6 lakh (estimated).
Now, you can estimate the severity of the lack of available employment opportunities in the job market.
Most of the times we have appropriate academic and professional degree / diploma / certification in the same field, even after several years of hard work; we do not get any job in our dream company.
In such a situation, we do not understand what to do.
How to get a job in which the pay package is great? We have tried to answer all these questions in this article.
Check Regularly Jobs on Your Dream Company's Website:
Nowadays we have 24x7 internet connection facility/ Wi-Fi is there in our computers, laptops, smart phones and more other devices.
This can be a simple way for us to prove that we can check jobs at our dream company's website regularly and as soon as we see any relevant Job we should apply immediately.
Apply for the profile on the company's website. In doing so, we will be called for at least an interview for that job profile.
Apply for a suitable profile:
This point is very important for freshers or professional and experienced job seekers.
Mostly, we apply for a job for which we do not have proper a qualification, professional training or work experience.
Similarly, we do not have the appropriate competence and skill set for that job profile.
Even we do not have any interest in that job or profession.
In the said circumstances, we are less likely to get that job.
Even if we get that job, we cannot achieve success further.
Therefore, it would be better for us to apply for any qualifying job profiles as per our qualifications, preferences, skill sets, as well as proper qualification, professional training or work experience.
Send your resume to HR
If you feel that despite having applied through the website of the company, you have not received any response yet, then you should send your resume to the HR Department of the company with all the required documents, without losing much time.
While choosing candidates for interview for any job profiles, the HR department shortlists the eligible candidates' resumes.
Job Consultants:
If you send your resume to various job consultants with all the necessary documents, then you have a great chance to get your job done soon, because job consultants work only in search of suitable candidates for different types of job vacancies.
They provide you many job opportunities in different companies.
You also get interview calls on their recommendation, but again, successful job interviewing will depend on your skills, qualifications, professional training and on your entire personality.
Walk-in-Interview:
The people and organizations feel time-crunch, many companies give information on walk-in-interview on their website on certain date / dates for different job profiles, through advertisements.
So keep an eye on your Dream Company website or, for other walk-in-interviews related to your job profile.
Keep your resume updated and also keep all the documents ready, be organised.
Generally, these recruits are open to all, for which candidates can join the interview according to their qualification, work experience and job profile etc.
Do professional courses in your field
If you have been unemployed for a long time then you may not have the necessary qualifications, professional training or skill set for the relevant job field.
In such a situation, it would be better for you to do professional courses related to your field as soon as possible.
If you have a degree / diploma or certificate associated with your career field, then, even if you are a fresher or an experienced professional, you will increase the chances of getting the job you want.
Even today the importance of Academic Qualification has not diminished for any job or career field.
Therefore, if you continue to increase your qualifications over time, you will definitely get benefited from getting the job you want.
Degree / diploma or certificates related to your field enhance your competency.
Postgraduates are more likely to get the job than a Graduate.
A post graduate receives even more wages for equal work than graduate.
Nowadays in the job market, in this highly competitive time, you cannot ignore the above points altogether.
The advantage of the latest updates and regular studies of your field
It is the key to success to get a dream job and keep the latest updates in your field and continue regular studies until you get a job.
During this interview, you will be able to give satisfactory answers to all the questions with confidence, and as a result, the job will be available to you.