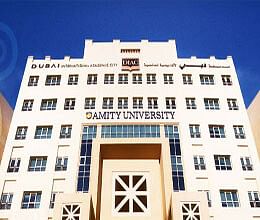 India's Amity University has become the first varsity here to open the largest private regional campus at the Dubai International Academic City (DIAC).
Stretched at a space of 700,000 sqft, the campus will accommodate 5,000 students and offer courses in fields including Engineering, Management, Hospitality and Forensic Science, besides providing extensive sports facilities .
Amity University in Dubai is part of the non-profit Amity group of international institutions, with a combined student body of over one hundred thousand in India, the US, the UK, Mauritius, Romania, China and Singapore, among others.
Chancellor Atul Chauhan of Amity University said, "We are proud that within the last two years of our presence in Dubai we have made a positive impact in the higher education arena, been able to gift scholarships to 125 students every year, and contributed significantly to research and innovation."
Other dignitaries attending the ceremony included Sheikh Ahmed Bin Saeed Al Maktoum, President of Dubai Civil Aviation Authority, Dr Abdullah Al Karam, Director General of Knowledge and Human Development Authority.