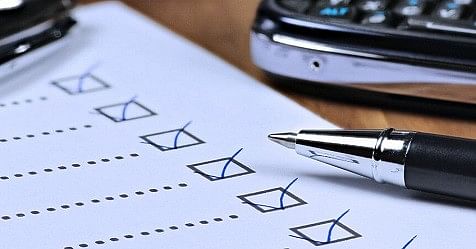 UPSC annual exam calendar 2019 has been released by the Union Public Service Commission. 
While the commission will conduct the Civil Services Prelims examination 2019 on June 2, the CS main exam will be held on September 20, 2019.   
How to check UPSC exam calendar 2018?
The simple steps to check UPSC exam calendar as follows: 
Step 1: Visit www.upsc.gov.in.
Step 2: Click on Annual Calendar 2019 option. 
Step 3: A PDF file mentioning the respective exam dates will pop up on the computer screen. 
Note: The dates of notification, commencement and duration of Examinations/ RTs are liable to alteration, if the circumstances so warrant.
The UPSC calendar is given below: 
1 Engineering Services (Preliminary) Examination, 2019 26.09.2018 22.10.2018 06.01.2019
(SUNDAY) 1 DAY
2 Reserved for UPSC RT/ Examination 20.01.2019
(SUNDAY) 1 DAY
3 C.D.S. Examination (I), 2019 31.10.2018 26.11.2018 03.02.2019
(SUNDAY) 1 DAY
4 Reserved for UPSC RT/ Examination 24.02.2019
(SUNDAY) 1 DAY
5 CISF AC(EXE) LDCE-2019 05.12.2018 31.12.2018 03.03.2019
(SUNDAY) 1 DAY
6 Reserved for UPSC RT/ Examination 10.03.2019
(SUNDAY) 1 DAY
7 N.D.A. & N.A. Examination (I), 2019 09.01.2019 04.02.2019 21.04.2019
(SUNDAY) 1 DAY
8 Civil Services (Preliminary) Examination, 2019
19.02.2019 18.03.2019 02.06.2019
(SUNDAY) 1 DAY
9 Indian Forest Service (Preliminary) Examination, 2019
through CS(P) Examination 2019
10 I.E.S./I.S.S. Examination, 2019 20.03.2019 16.04.2019 28.06.2019
(FRIDAY) 3 DAYS
11 Combined Geo-Scientist and Geologist Examination,
2019 20.03.2019 16.04.2019 28.06.2019
(FRIDAY) 3 DAYS
12 Reserved for UPSC RT/ Examination
07.07.2019
(SUNDAY) 1 DAY
13 Engineering Services (Main) Examination, 2019 30.06.2019
(SUNDAY) 1 DAY
14 Combined Medical Services Examination, 2019 10.04.2019 06.05.2019 21.07.2019
(SUNDAY) 1 DAY
15 Reserved for UPSC RT/ Examination
11.08.2019
(SUNDAY) 1 DAY
16 Central Armed Police Forces (ACs) Examination, 2019 24.04.2019 20.05.2019 18.08.2019
(SUNDAY) 1 DAY
17 C.D.S. Examination (II), 2019 12.06.2019 08.07.2019 08.09.2019
(SUNDAY)
1 DAY
18 Reserved for UPSC RT/ Examination 15.09.2019
(SUNDAY) 1 DAY
19 Civil Services (Main) Examination, 2019 20.09.2019
(FRIDAY) 5 DAYS
20 Reserved for UPSC RT/ Examination 20.10.2019
(SUNDAY) 1 DAY
21 N.D.A. & N.A. Examination (II), 2019 07.08.2019 03.09.2019 17.11.2019
(SUNDAY) 1 DAY
22 Reserved for UPSC RT/ Examination 24.11.2019
(SUNDAY) 1 DAY
23 Indian Forest Service (Main) Examination, 2019 01.12.2019
(SUNDAY) 10 DAYS
24 S.O./Steno (GD-B/GD-I) LDCE 18.09.2019 10.10.2019 14.12.2019
(SATURDAY) 2 DAYS