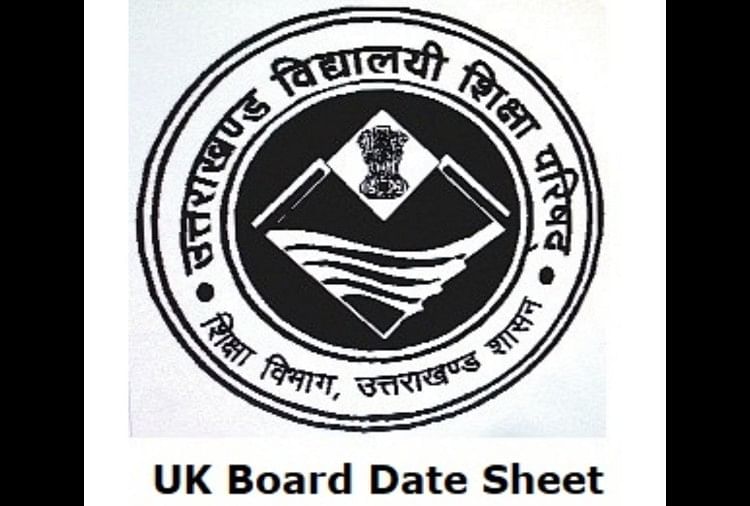 The Uttarakhand Board of School Education (UBSE) has released the date sheet for class X and class XII board exam. 
While the UK Board class 12th exams will commence on March 02, 2020, UK Board class 10th exam will commence from March 03, 2020. The UK Board exam datesheet is available on the board's official website. 
Simple steps to download UK Board 2020 Datesheet as follows: 
Step 1: Visit www.ubse.uk.gov.in. 
Step 2: Go to the latest notification. 
Step 3: Read the instructions and download the datasheet of the respective classes. 
Date
Subject Name
03 March 2020
Hindi
06 March 2020
English
07 March 2020
Indian Music (Melodic Instrumental),
Typing (English or Hindi),
Drawing
13 March 2020
Science
14 March 2020
Indian Music (Singing),
Indian Music (Classical)
16 March 2020
Information Technology
Ledger Account,
Commercial Element,  
Agriculture
18 March 2020
Social Science
20 March 2020
Home Science
23 March 2020
Mathematics
24 March 2020
Urdu 
25 March 2020
Punjabi,
Bengali,
Sanskrit
Date
Subjects
02 March 2020
Hindi, Agriculture (Hindi-Part II)
04 March 2020
Indian Music (Singing)

Indian Music (Melodic Playing)

Indian Music (Percussion Playing)

05 March 2020
English
06 March 2020
Agricultural Science 1 (Only For Agriculture Part I)

Agricultural Science 6 (Only For Agriculture Part II)

07 March 2020
Home Science

Business Studies

12 March 2020
Political Science

Physics

Accountancy

Agricultural Science Paper-l (Only for Agriculture Part-l)

Agricultural Science Paper-Vl (Only for Agriculture Part-ll)

14 March 2020
Psychology

Pedagogy

Logic

16 March 2020
History

Agricultural physics and climate Paper-lll (Only for Agriculture Part-l)

Agricultural animal science Paper-Vlll (Only for Agriculture Part-ll)

17 March 2020
Drawing and Painting
19 March 2020
Economics
20 March 2020
Military Science

Computer Science

Agricultural engineering Paper-lV (Only for Agriculture Part-l)

Agricultural animal husbandry and Veterinary Science Paper-lX (Only for Agriculture Part-ll)

21 March 2020
Mathematics

Sociology

23 March 2020
Sanskrit

Urdu

Punjabi

24 March 2020
Biology

Agricultural botany Paper-ll (Only for Agriculture Part-l)

Agricultural economics science Paper-Vll (Only for Agriculture Part-ll)

25 March 2020
Geography

Geography Science