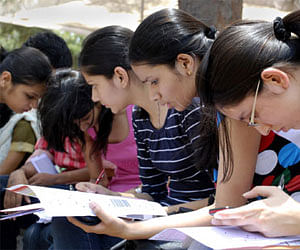 A government appointed committee on yoga education has recommended seven programmes for implementation in universities, the government today said.
In a written reply to a question in Rajya Sabha, HRD Minister Smriti Irani said the recommendations of the panel are being examined.
Giving details, the minister said the panel, headed by Professor H R Nagendra of Swami Vivekananda Yoga Anusandhana Samsthana, Bangalore, has recommended a certificate course of 6 to 12 months, BSc yoga of 3 to 6 years and post-graduate diploma of 1 to 2 years duration.
Other courses recommended are post-graduate diploma in yoga therapy (1 to 2 years), MSc yoga (2 to 4 years), PhD (3 to 5 years) and Doctor of Philosophy (integrated) yoga of 4 to 6 years.
The committee has also prescribed the qualifications for faculty of yoga, she said.