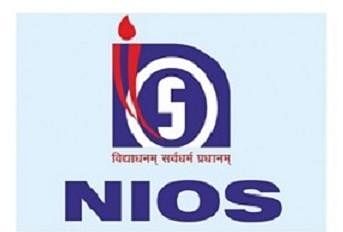 The date sheet for October 2019 exam has been released by the National Institute of Open Schooling (NIOS). Students enrolled for Class 10th or Class 12th can visit the NIOS's official website: nios.ac.in.
The datesheet is for class 10th and Class 12th students in India as well as for Overseas.
The exam is beginning from October 3, the first exam is of Sanskrit and the timings are 2.30pm to 5.30pm.
The hall ticket for the exam will be available on the official website of NIOS (once released).
All the practical exam will be held at their respective Als where candidates enrolled during his/ her admission unless otherwise (cancelled/ non-functional A.Is) notified by the concerned Regional centre.
The practical exam will be conducted as per the schedule since practical exam is being conducted in small batches, students/ candidates are advised to contact the centre Superintendent/ coordinator of Als well in advance of the commencement of the practical exam to know specified dates as well as batch allotted to them.
The dates of practical exam:
For Sr. Secondary:
Sep 16th-20th, 2019: Home Science, Biology, Geography, Painting
Sep 21 to 25, 2019: chemistry, physics, environmental science
Sep 26 to 30, 2019: Computer Science, Data Entry Operations, Mass Communication, Library and Information Science.
For Secondary:
Sep 16th-20th, 2019: Science and Technology
Sep 21 to 25, 2019: Painting, Maths
Sep 26 to 30, 2019; Home Science, data entry operations
For practical exam, the candidates at AIs will be divided in the required number of batches according to the capacity of the laboratory and consultation with Examiner(s) concerned by the Superintendent/ coordinator of the Centre/AIs.
The result of the exam is expected to be declared in six weeks after the last date of the exam, no enquiries about the actual date of declaration of result will be entertained. A copy of the relevant portion of the result will be communicated to the Accredited Institutions immediately after declaration of results and will also be available on NIOS website: nios.ac.in.
The practical exam will be conducted at their respective Accredited Institute (AI) of NIOS. For details, please contact your AIs/ regional centre in advance.
The exam fees paid by the candidates entitle them to appear in practical and theory exam, if otherwise eligible, without having to pay anything extra at the exam centre.
Notification for all India candidates: https://www.nios.ac.in/datesheet/All_India.pdf

Notification for Overseas candidates: nios.ac.in/media/datesheet/(IOverseas).pdf