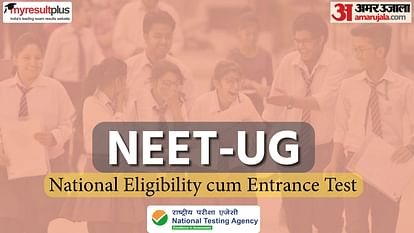 NEET UG 2023: The National Testing Agency (NTA) has released the admit card for the upcoming NEET UG exam, scheduled to be conducted on May 7 across the country. Candidates are required to follow certain guidelines before the exam, which include dress code regulations, the use of face masks, and social distancing measures. These guidelines are essential to ensuring the safety and security of all candidates and staff involved in the exam.
NEET UG Exam 2023: NTA Issues Exam Day Guidelines
The National Testing Agency (NTA) released the admit card for the medical entrance examination NEET UG 2023 on Wednesday, May 3. The NEET UG exam will be held on Sunday, May 7, 2023, at exam centres in 497 cities, where 20 lakh 59 thousand candidates will take the exam in pen and paper mode. This year, 1,86,653 more candidates have registered for the NEET exam than last year. Some guidelines have been issued for the students before the examination, which they have to follow.

The NEET UG medical aspirants will have to paste a coloured postcard-sized photograph or a 4-inch x 6-inch photograph on the NEET UG hall ticket. In addition to the NEET UG OMR sheets, the medical aspirants will also be required to submit the NEET UG admit cards.
 
NEET UG 2023: Dress Code Guidelines
Dress codes have been prescribed for the students going to take the NEET UG exam, which they have to follow while coming to the examination centre. Candidates not following the dress code will not be allowed inside the examination centre. Please note that the NEET dress code has been issued separately for boys and girls. Let's know what to wear.

Different Dress Codes for Boys and Girls
According to the NEET UG dress code, boys will have to wear a half shirt or T-shirt, trousers, and simple pants. Boys will not be allowed to wear a full shirt, t-shirt, or kurta-pyjama. Along with this, heavy clothes with embroidery or thick zips and buttons should be avoided. Boys will have to wear sandals or chappals instead of shoes in the examination hall.

A dress code has also been issued for girls going to take the NEET UG exam, which they have to follow. Girls will not be allowed to wear heavily embroidered clothes. Girls can also wear half-sleeve dresses. Along with this, it is prohibited to come to the examination hall wearing high heels, slippers, or sandals. Girls can come wearing chappals or sandals with low heels. Apart from this, girls should avoid wearing metal things like earrings, necklaces, bracelets, and pendants at the examination centre. Fashionable jeans will not be allowed.
 
NEET UG 2023: Tight Security Arrangements at Exam Centres
According to the instructions of NTA Director General IAS Dr. Vineet Joshi, mobile jammers, biometric machines, frisking, and metal detectors have been arranged for the security of paper at all examination centres. Army, police, and private security agency personnel will be deployed for security at every examination centre.

Retired army officers have been appointed as observers and deputy observers by the NTA at each examination centre. All centres will be fitted with CCTV cameras, which can be directly viewed from NTA's Delhi headquarters.