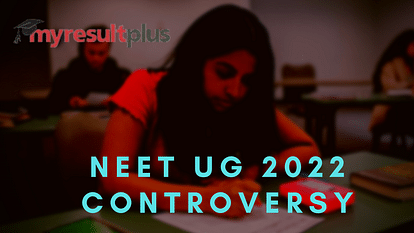 NEET UG 2022:
The largest medical entrance examination of the country, NEET UG 2022, was engulfed in umpteen controversies, after several female candidates at the exam centers set up in Kollam and Sri Ganganagar were asked to shrug off their bras and other innerwear to be able to appear in the exam. In addition to this, numerous candidates witnessed a major goof-up in the paper, as the English and Hindi papers were mixed up, while certain students received photocopied OMR sheets to fill in their responses.
The incidents sparked violent protests and controversies all over. In light of the same, Director General (DG) of National Testing Agency has written to the Member Secretary of Medical Counselling Committee (MCC), Dr B Srinivas.
NEET UG 2022 Controversy: 4 More Exam Centers Come to Light
Addressing the letter to Member Secretary of Medical Counselling Committee (MCC), Dr B Srinivas, DG Dr Vineet Joshi wrote, 'Along with 02 incidents reported from NEET UG 2022 exam center set up in Kollam and Sri Ganganagar, some more incidents were reported from 04 more exam cities as well. Factual report was sought from the concerned examination functionaries pertaining to the said incidents.'  
NEET UG 2022: Re-conduct of Exam
The letter continued to read, 'Based on the reports received from the exam center, it was evident that all the 06 incidents might require the National Testing Agency to re-conduct the medical entrance examination for the affected candidates. Thus, according to the recommendation of the Medical Counselling Committee and the approval of the Ministry of Health and Family Welfare, a re-examination shall be conducted for all the affected candidates from the said areas.'  
Notably, 04 more exam centers from where the said incidents were reported are as follows:
Kendriya Vidyalaya Harda road, Narmadapuram, Hoshangabad, Madhya Pradesh
PG Senior Secondary School, Kaptanganj, Kushinagar, Uttar Pradesh
Mount Litera Zee School, Bhind, Madhya Pradesh
Saint Pauls School, Didwana road, Kuchaman, Nagaur, Rajasthan
NEET UG 2022 Re-Exam: Other Updates
Meanwhile, Member of Parliament (MP) of Nagaur, Hanuman Beniwal, wrote a post on Twitter on August 25, 2022. He claimed in his tweet that he met Central Health Minister Mansukh Mandaviya twice, regarding the goof-up that the candidates faced while writing NEET UG 2022 exam. He added that Minister Mandaviya has ordered the cancellation of the said exam.  
Check Beniwal's official tweet below    
Link to official website:
neet.nta.nic.in