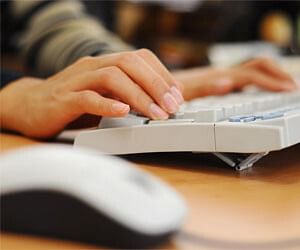 The Computer Based Entrance Test (CBET) would be much easier than offline mode for the students appearing for
Joint Entrance Examination (JEE) Main- 2015
. The good news for the students is the medium will not be an obstacle.
The students can read questions either in Hindi/English in online mode according to their desire but this facility will not be available in offline mode.
The computer based JEE main 2015 exam pattern will allow the applicants to read questions both Hindi and English.
JEE (Main) computer based examination will be conducted on April 10 & 11, 2015 while the written examination for same will be held on April 04, 2015. The Central Board of Secondary Education (CBSE) has uploaded all the information about exam on its website.
MORE FROM EXAM :Opt for slot in Joint Entrance Examination (Main) - 2015
No need of Internet :
CBSE has already made it clear that this is not an online examination, there is no need of internet for this exam which may in anyway will harm the proceedings of exam.
This exam will be held on an area network system. The examination will be conducted in two shifts; first shift will be held from 09:30 AM to 12:30 PM and the second shift will be held from 02:00 Pm to 05:00 PM.
ALSO READ :Girls will have to pay registration fee for JEE (Advanced)