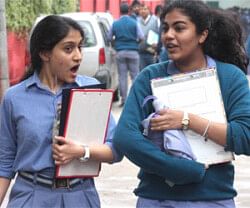 The Council for the Indian School Certificate Examination (CISCE) is all set to announce its I.S.C (Class XII) results likely till May end. According to a notification issued by Board all the essential arrangements have been done to declare the result on its scheduled time. The CISCE Board is sweating out hard to nurture the best possible results for students pursuing their studies from this Board.


A statement issued by Board reads that Indian School Certificate Examination 2016 kick started on February 08 which will end on April 08. The two month long exam gaps may be hectic for students but at the same time it is giving you enough gap between one subject to another to excel your CISCE Board Result 2016 by using that time span. According to a stat released by Board 96.28% Pass Percent students were declared passed in ISC 2015.


The stat further states that "The total number of candidates who appeared for the ISC Examination last year is 71,141. Number of Boys who appeared for the ISC Examination is 38,659 and Number of Boys passed in ISC is 36,830. CISCE Board has produced a good result last year and students hope that this year will be no different.


How to access your results:

Candidates who wrote their paper are advised to keep visiting this website on priority to check their results. Once the results will be out we will be publish the same on our dedicated board page as well. CISCE Board has a very unique and separate way to announce the CISCE Board 12th Resullts. Candidates will be given a unique Hall ID Number by which you can check your results for the same.


The CISCE Board has been constituted with an aim to secure suitable representation of governments responsible for schools (which are affiliated to it) in their states/territories; the Inter-State Board for Anglo-Indian Education; the Association of Indian Universities; the Association of Head of Anglo-Indian Schools, the Indian Public School Conference; the Association of Schools for the ISC Examination and eminent educationists. Stay connected to our website, keep visiting and we would be the first to serve you the results.