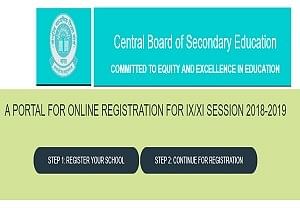 Registration for regular students of Class 9/11 has started by the Central Board of Secondary Education (CBSE).
The link is available on website cbse.nic.in.
The actions are desired to be taken for registration of students: -
- All affiliated schools are required to register themselves before proceeding for online registration of their students. Schools must use the 'Affiliation Number' as user ID already available with them.
- Newly affiliated schools should contact the concerned Regional Office of the CBSE for obtaining password after which schools are advised to change the password for future use and keep it confidential to avoid misuse. Keeping the password safely shall be the responsibility of the school.
- In the event of any difficulty, concerned Regional Office may be contacted as per jurisdiction/contact details given in the Annexure.
Features of this year's Online Registration system are as under: -
- Schools should enter a number of sections and number of students which should be in consonance with the information provided on OASIS. This information should be filled very carefully in OASIS as schools will not be allowed to change the declared section/strength afterward.
- As per Rule 6.1 -- (a)(iii) of the Examination Bye-Laws, the school shall ensure that the student, while seeking admission in a class, satisfies the requirement of age limit (minimum and maximum) as determined by the State/ U.T. Government and applicable to the place where the School is located.
• Aadhaar number field has been provided. The use of Aadhaar for the students will result in an accuracy of the students' details.
• The students not in possession of Aadhaar number may enter the Passport number, Ration card number, Bank account number or any other Govt. valid identity.
• In respect of Foreign nationals, Passport Number can be provided. If passport number is not available, Social Security Number/ID Number issued by that Foreign Country may be mentioned.
• For classes IX/XI, schools are advised to offer only those subjects which have been permitted to them by the Board. In case, the school sponsors students in the subject(s) other than those permitted by the Board, it may lead to action against the school, in addition to the cancellation of candidature of such students.
• Board has prescribed scheme of studies which is available in the Curriculum on the link cbseacademic.nic.in/curriculum.html on website cbseacademic.nic.in/ for Secondary and Senior Secondary classes. Schools are required to offer the subjects in adherence to the Scheme of Studies only.
• In accordance with the Scheme of Studies, Board has prescribed examples of the Valid/ Invalid combination of subjects. Schools should check the combination of subjects before filling in the subjects.
• Class IX/XI examinations must be conducted internally by the schools.
• All Independent Schools situated in India must deposit Sports Fee of Rs.10,000/- along with registration fee. This fee is collected by the online system by default. No separate sports fee is required to be sent by the schools situated in India to the concerned Regional Office.
• Schools can complete the registration process by individual entry or uploading filled in excel file provided by the online registration system.
• In case of refund of payment, schools should contact the Regional Office concerned.
• Schools are required to send the signed copy of finalized data of registered students of class 9/11 to concerned Regional Office only. Schools are advised not to send it to Central Board of Secondary Education, Preet Vihar, Delhi.
• Instructions for submission of List of Candidates for class X/XII and an online form for Private/2nd chance Compartment examination will be issued separately.
• CBSE has remodeled assessment system for class X examination. For details on assessment system for the classes IX and X please refer to Circular no. Acad05/2017 dated 31.01.2017.
• Board is extending several exemptions/concessions to candidates with disabilities as defined in the "THE RIGHTS OF PERSONS WITH DISABILITIES ACT 2016". In this context, NOTIFICATION No. CBSE/Coord/112233/2018 dated 26.09.2018 issued by the Board may please be referred to.
Detailed Procedure, Fee, Registration process, Valid combinations etc. are described in detail in the enclosed Annexures.
Schools are advised to go through the detailed procedure before applying. While uploading data, schools will ensure the following:-
1. The spelling of student, mother's & father's name is correct and as per Admission & Withdrawal, Register maintained by the school.
2. Date of Birth is as per Admission & Withdrawal Register maintained by the school.
3. Subject combinations are correct and are as per Scheme of Studies
4. Subject codes are correct (Fill the subject as offered by the school)
(i) Selection of Hindi - A, Hindi - B & Urdu etc in Class – IX be done cautiously
(ii) Selection of Hindi (Core), Hindi (Elective), English (Core), English (Elective), Sanskrit (Core), Sanskrit (Elective), Urdu (Core), Urdu (Elective) etc. in Class XI be done cautiously.
Schools must ensure uploading of 100% correct data to avoid future problems of corrections in student's data. Data must be got double checked before uploading.
Head of the Schools should personally monitor this activity.
For any queries call at CBSE Helpline No. 1800-11-8002 between 9.30 AM- 5.30 PM on all working days.  
Related Articles

on Exam Alerts