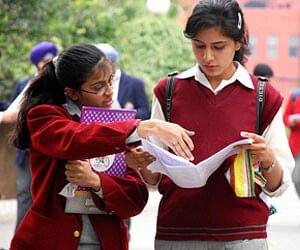 The
Central Board of Secondary Education
(CBSE) has issued the tentative Class X Datesheet for Annual Exam of 2015.
In a good news for lakhs of students gearing up for Board Examination the Board has issued Examination Time Table and has notified the students to plan accordingly.
Students gearing up for
Board Examination
are advised that this is not the final datesheet issued by CBSE Board. The Board will issue afresh Time Table for Class X Board Examination on its official website.
CBSE every year conducts its Board examination in the month of March.
A MUST READ :Special Coaching for CBSE Board Exams
The Board is planning to conduct examination on its probable scheduled time and has started giving the programme final touch.
Students searching for CBSE Board Exam Datesheet for 2015 are advised to visit our designated Board page on regular basis to get the latest updates from Board as it will be announced.
ALSO READ :CBSE plans 'GANIT' to enhance mathematical skills
To download your tentative Datesheet
CLICK HERE.
To get more Exam Alert
LIKE OUR FB PAGE.