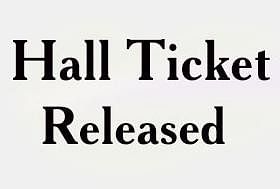 The admit card for Combined Competitive (Preliminary) Examination has been released.
Assam Public Service Commission, Guwahati has released the admit card.
Here is the direct link to download the admit card:
https://www.onlinener.com/PRILI18/
Instructions:
1. Immediately after downloading the e-Admission Certificate, the candidate should check it very carefully and bring to the notice of the Assam Public Service Commission discrepancies, if any, without loss of time.
2. He/she must bring his/her Admission Certificate to the Examination Hall to secure admission.
3. Candidates are to reach the examination hall at least 30 minutes before the Examination.
4. Candidates who are unable to download their e-ADMISSION CERTIFICATE must furnish to the designated Supervisor
(i) two copies of recent passport size photograph and
(ii) any one of the identity proof documents, such as PAN Card/ Driving License/Passport/ Voter ID Card/ Bank Passbook containing Photograph/ ID Card issued by the Educational Institution where he/she is studying presently/ ID issued by Govt. or Public Sector undertaking etc.
5. The candidate will paste a copy of recent passport size colour photograph (with white background) on the space provided in the e-Admission Certificate.
6. The candidate will be admitted to take the examination at the Centre specified in the Admission Certificate only and at no other Centre.
7. No candidate will be admitted to the Examination Hall 20 minutes after commencement of the examination.
8. The candidate should not bring any other paper except the e-Admission Certificate and original valid identity proof to the Examination Hall. The candidate may bring his/her own Clip Board or Hard Board or Card Board on which nothing should be written and a good quality Black/Blue Ball Point Pen.
9. Candidates are not allowed to carry any electronic/mechanical communication device including mobile phone, Bluetooth, earphone, tablet etc.
10. Calculators, books, scale or drawing instruments are not allowed inside the examination hall. the commission shall not be responsible for safe custody of mobile phones etc. and as such will have no liability in case of loss or damage.  
Related Articles

on Exam Alerts