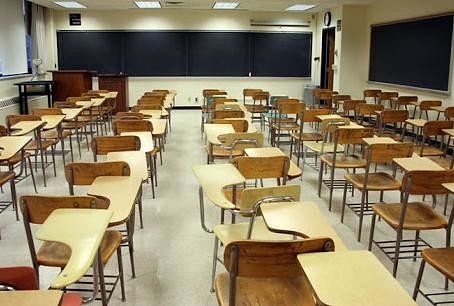 Uttar Pradesh Schools have terminated physical classes upto 10th standard amidst the looming fear of third wave of Covid-19 after receiving relevant guidelines from the Uttar Pradesh government. According to the newly issued guidelines, the termination of physical classes upto 10th standard would fall into action starting tomorrow, dated January 6, 2022, and would continue till January 14, 2022. The decision comes as the children have still not received vaccine jabs and it has been implemented keeping in view the rapid pace of Covid infections.
The schools were anyway not functioning formerly in Uttar Pradesh, as many institutes had relaxed physical classes owing to winter vacations. However, post the announcement of curbs in Uttar Pradesh, the closure of schools has now been extended till Makar Sankranti. On the other hand, the schools will resume physical classes for students of Class 11th and 12th in Uttar Pradesh, as the new restriction-oriented guidelines do not specify anything about the students of senior classes. On the contrary, classes would continue in online mode for students upto 10th standard in Uttar Pradesh.  
In addition to this, the UP government has also decided to extend the curfew timings across the state to prohibit people from stepping out unnecessarily. The revised curfew timings that have been implemented in the state are from 10 pm to 6 am, which were formerly from 11 pm to 5 am. Furthermore, the operational capacity of public places in Uttar Pradesh like gyms, restaurants, clubs etc has again been restricted to 50%. This restriction would apply to those districts in UP that are logging more than 1000 active cases per day.