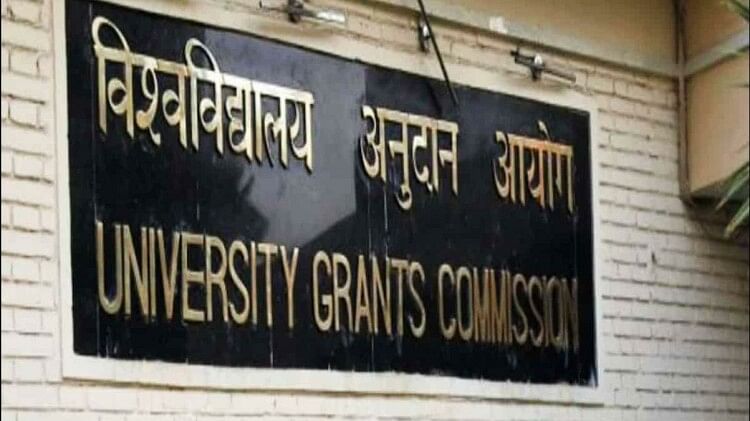 UGC Launches New Website, UTSAH Portal, and PoP Portal: The University Grants Commission (UGC) Chairman, Professor M. Jagadesh Kumar, has launched new user-friendly website, UTSAH Portal, and PoP Portal to transform higher education, facilitate stakeholder engagement, and enhance quality through innovative initiatives and collaboration with experts.
Launch of New Website of UGC:
The University Grants Commission is aligning its efforts with NEP 2020 to support universities and colleges in transforming higher education into world-class education. UGC is formulating regulations and acting as a facilitator to ensure that higher education institutions provide quality education, fostering a skilled and innovative young generation.

In line with this mission, UGC has redesigned its website to make it more user-friendly, informative, and dynamic. All information is categorized according to stakeholders such as students, faculty, and universities, making it easier to access relevant information.

The homepage showcases key initiatives, student and faculty corners, information about different types of universities, dashboards, and e-Governance portals of UGC initiatives and schemes. Stakeholders can easily access notices and circulars, and regulations are organized based on the types of stakeholders, including universities, colleges, students, and faculty. The website also provides convenient search and filter options to find university details and offers comprehensive information about UGC's various bureaus, including contact details of bureau heads and other officials. UGC's various digital initiatives are prominently highlighted for direct access.
 
Launch of UTSAH Portal:
NEP 2020 has recommended several initiatives to transform higher education, consisting of ten main themes and eighteen points that all universities and institutions are required to implement. UGC has developed a portal named UTSAH (Undertaking Transformative Strategies and Actions in Higher Education) to motivate, implement, and monitor the progress of these initiatives.

The UTSAH Portal aims to effectively track and support the implementation of the National Education Policy 2020 and its strategic initiatives across Higher Educational Institutions (HEIs) in our country. After extensive consultations with stakeholders, including institutions, universities, colleges, IITs, NITs, and INIs, the UGC is launching the UTSAH Portal today.

The UTSAH Portal will serve as a comprehensive platform, providing detailed information about UGC's initiatives for qualitative reforms in higher education. It will also serve as a repository for regulations, guidelines, and frameworks issued by the UGC, ensuring easy accessibility for all stakeholders.

The UTSAH Portal will track outputs and outcomes in essential fields such as learner-centric education, digital learning, industry-institute collaboration, academic research, internationalization, and the Indian Knowledge System. HEIs will provide valuable insights into their efforts and progress in these thrust areas through the portal, contributing to the overall enhancement of the higher education landscape in our country.

Under this initiative, HEIs will log in to the Portal using their AISHE code and provide information on various activities falling under the ten identified thrust areas. The UGC will generate monthly reports based on the information provided by HEIs. The user-friendly interface of the Portal facilitates easy submission of initiatives, achievements, and best practices adopted by HEIs to implement qualitative reforms on their campuses. Providing comprehensive and reliable data will aid in informed policy-making, future planning, and the overall growth of the higher education sector in our country. The launch of the UTSAH Portal is anticipated as a significant milestone in our journey towards accessible, equitable, inclusive, and quality education in India.
 
Launch of PoP Portal:
The transformative reforms introduced in the National Education Policy 2020 emphasize the engagement of distinguished experts from various fields by academic institutions to provide students with exposure to their in-depth professional experience.

In line with this policy direction, the University Grants Commission (UGC) has introduced a new teaching post titled 'Professor of Practice' for Higher Educational Institutions (HEIs) in India. The guidelines for engaging Professors of Practice in HEIs were published on September 30, 2022, with the aim of enhancing the quality of higher education by bringing practitioners, policymakers, skilled professionals, and more into the higher education system.

In adherence to the policy, UGC has developed a portal for Professors of Practice (PoP) to facilitate institutions in recruiting experienced professional experts in the required area. Experts from any discipline can register with an email ID and mobile number. Once registered, they can log in and fill out their profile with detailed information, such as their domain of expertise, years of work experience, location, type of engagement, expectations, and more.

Universities and institutions can also register on this portal and upload advertisements for the appointment of PoP positions with the required number of posts and specific domains. Institutions can access the details of registered experts on the portal and contact domain experts. The engagement between experts and institutions will be decided based on mutual convenience.

This portal serves as a platform for collaboration between experts and academic institutions, fostering a beneficial partnership.