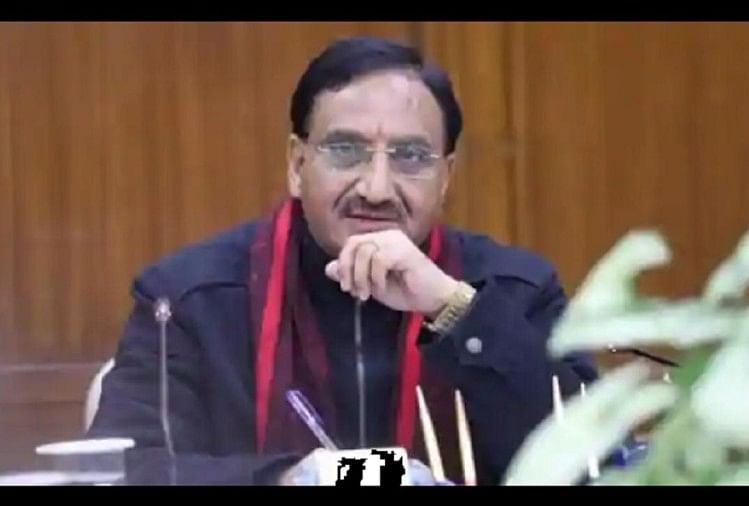 The Union Cabinet approved the New Education Policy, NEP 2020 almost after five years. The new education policy aims to restructure both school and higher education in India.
The new education policy is drafted by the committee lead by former Indian Space Research Organization (ISRO) chairman K Kasturirangan. The committee submitted its draft of the NEP in May 2019, to the Human Resource Development Minister Ramesh Pokhriyal Nishank.
The draft of the new education policy was made public for the opinion of various parties. The ministry received more than two lakh suggestions on it. The government has also renamed the Union Ministry of Human Resource Development (MHRD) Ministry of Education, as proposed in the NEP.  
The education policy which is currently in force in our country was formulated in the year 1986. It was revised in 1992.
The New Education Policy, NEP 2020 emphasises on the use of technology at both school and higher education levels. Here you will get to know the major changes implemented through the education policy 2020.
NEP 2020: Higher education
One of the major reforms in the higher education include target of 50% gross enrollment ration by 2035 and provision for multiple entry/exit.
In the multiple entry and exit system, a certificate will be given after the first year, diploma after the second year and degree after three-four years.
MPhil courses will be discontinued under the new National Education Policy.
There will be only one regulator authority for higher education in the country. It will have separate verticals for approval and finance. This regulator will work on 'Online Self Disclosure Based Transparent System'.
All higher educational institutions except law (law) and medical colleges will be run by the same authorities. There will be shared rules for private and public higher educational institutions.
A four-year degree program can then do an MA and then a PhD directly without an MPhil.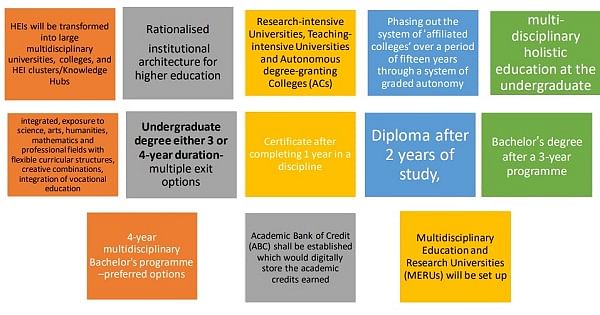 NEP 2020: School Education
One of the National mission is to focus on basic literacy and basic numeracy. 
There will be major changes in the pedagogical structure of the curriculum with no rigid separation between streams.
All separations between vocational and academic and curricular and extra-curricular studies will also be removed under the new education policy.
Board exams will be low stakes and test actual knowledge instead of rote learning.
Mother tongue to be the medium of instruction till 5th grade.
Report cards will be a comprehensive report on skills and capabilities instead of just marks and statements