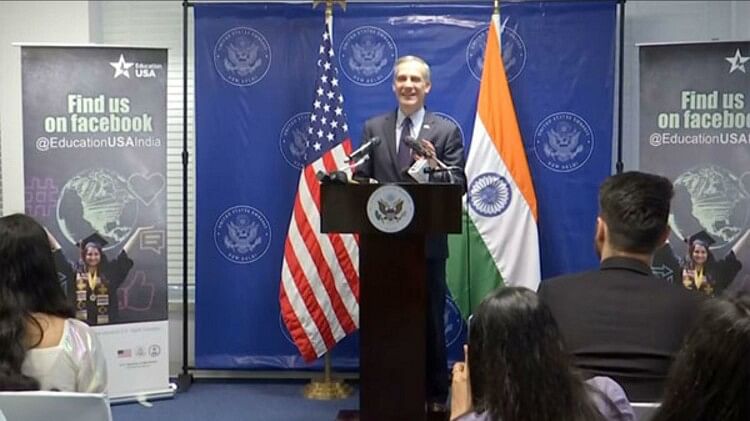 Eric Garcetti at 7th Annual Student Visa Day: The US Mission in India held its 7th Annual Student Visa Day countrywide, with consular officers interviewing Indian student visa applicants. The US Ambassador to India, Eric Garcetti, highlighted the strength of the relationship between India and the United States, emphasizing that more Indian students choose to study in the United States than students from any other country.
One in Every Five US Student Visas Issued to Indians: US Envoy
The US Ambassador to India, Eric Garcetti expressed his admiration for the mission's work and the robustness of the US-India relationship. According to Garcetti, "One out of every 5 US student visas was issued in India in 2022, which is more than the proportion of the Indian population in the world." He also noted that Indians have demonstrated excellence in the United States for decades and praised the increasing number of visa applications being processed.

During the seventh annual student visa day, consular officers from New Delhi, Chennai, Hyderabad, Kolkata, and Mumbai interviewed approximately 3500 Indian student visa applicants. Indian students make up over 21 percent of the total population of international students in the United States, with nearly 200,000 Indian students studying there during the 2021-2022 academic year.

Envoy Garcetti congratulated the students on their decision to study in the United States, highlighting the enduring higher education ties between the two countries. He also mentioned that in 2022, Indians received the highest number of H&L employment visas (65 percent) and F1 student visas (17.5 percent) globally. Furthermore, over 1.2 million Indians visited the United States in 2022, making them one of the largest groups of international visitors.

The US Mission to India aims to process over one million visa applications in 2023, with the highest number of student interviews scheduled between June and August. Last year, Mission India issued a record-breaking number of more than 125,000 student visas.