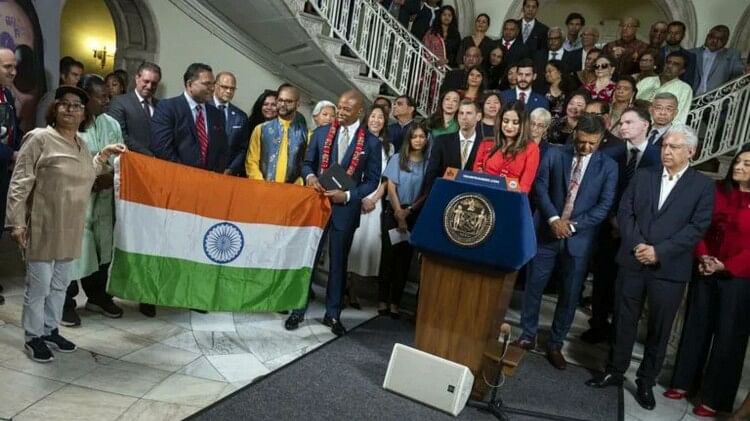 Diwali Declared School Holiday in NYC: Diwali, the festival of lights, will now be enshrined as a school holiday in New York City, as authorities announced here. They described it as a "victory" for the city's residents, including the Indian community.
Diwali, the festival of lights, will now be a school holiday in New York City, as announced during a special event at City Hall. This victory is celebrated not only by the Indian community but by all residents of New York. Mayor Eric Adams expressed confidence in the bill being signed into law by the governor.
 
Assembly Member Acknowledges Community's Long Struggle
New York Assembly Member Jenifer Rajkumar, the first Indian-American woman elected to a New York State office, acknowledged the decades-long fight of the South Asian and Indo-Caribbean communities. She proudly declared that Diwali will now be permanently recognised as a school holiday in New York City.
 
Diwali Holiday: Embracing Cultural Diversity
The inclusion of Diwali as a school holiday is seen as a testament to the diversity and cultural richness of the city. It is not just a holiday but an American holiday, with Hindus, Sikhs, and Buddhists holding an important place in America's civil rights tradition.
 
City Officials and Leaders Welcome the Change
City officials, lawmakers, and community leaders expressed their support for the decision, emphasising the need to reflect changing demographics and ensure inclusivity in the school calendar.

Congresswoman Grace Meng, First Vice Chair of the Congressional Asian Pacific American Caucus, lauded the recognition of Diwali as a school holiday and expressed hope that it would inspire other cities to follow suit. She has also introduced a bill in Congress to establish Diwali as a federal holiday.
 
Diwali's Impact: Promoting Cultural Understanding and Inclusivity
The New York City Schools Chancellor, David Banks, highlighted the educational value of the Diwali holiday, stating that it goes beyond school closures and offers an opportunity for students to learn about the history and heritage of the community.
 
The decision to make Diwali a school holiday in New York City signifies a significant milestone and an important step towards promoting cultural understanding and appreciation among students of all backgrounds.