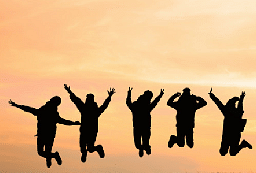 Throughout our life from childhood to now, there has been one thing constant "FRIENDS". Friends are the one we have flaunted about, we have fought with, we have loved and had the great times with. Whether sharing our chocolate was the concern or sharing our life problems, friends have been always an important part. 
So now if we realise, we happen to make fewer friends as compared to our childhood as we spend most of the time at work with our co-workers. So many times question arises that is having friends at work a good thing?
According to Sigmund Freud a well known Austrian neurologist, John Donne a renowned poet from the United Kingdom and Abraham Maslow an American psychologist, having a meaningful friendship at work may actually be a psychological necessity. 
So here are some points that show the importance of friendship at work. 
Productivity
A company sails smooth based on its productivity, and productivity is directly reflected by the work of the employees. In this case, workplace friendship plays a big role as according to a study, 60% of workers would be more inclined to stay with their employer if they have more friends at work, due to which the tasks are accomplished on time, which is obviously one of the key factors for increasing the productivity. 
Efficiency 
If you have a good relationship at work, it helps you perform better and positively which results in making you efficient at the things you do. It is a true fact that a person mostly polishes his skills when he is given honest and constructive feedback. These small gestures of friendship bring a sense of belongingness and also enriches your experience at the workplace. 
Innovation 
It is always said that two heads produce better ideas than one. If there is a smooth relationship with the co-workers you end with more creative ideas as their advice complements your simple thought. It not only makes you happy but makes you more confident and refines your abilities. 
Motivation 
Having friends at work is itself a motivation for us to come daily to the office, perform better, courageously face challenges and deal with endless issues. Friends at work always boost our ability and sharpen our skills to give our best. It is always seen that a happy environment always helps an organisation to grow, similarly, a positive friendship at work helps us groom ourselves. 
Positive Environment 
Friends always create a positive environment, as if we have friends at work it makes the burden look a bit smaller than it seems to be and also encourages you to go ahead and perform better. A friendly relationship among the colleagues develops a free and easy environment at workplace which can be a great influence in your career.
So turn your co-workers into friends this friendships day and notice the big change because you can alone achieve small but together you can accomplish huge tasks.