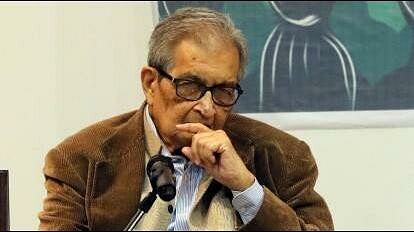 Nobel laureate Amartya Sen has moved the Calcutta High Court against the Visva-Bharati University's notice asking him to vacate 13 decimal acres of land at his Santiniketan residence by May 6.
Amartya Sen Moves High Court
Nobel laureate Amartya Sen has filed a petition in the Calcutta High Court after receiving a notice from Visva-Bharati University asking him to vacate 13 decimal acres of land at his Santiniketan residence by May 6.

The university claims that the land is under Sen's "illegal occupation" and threatened to evict him if he fails to comply within the deadline.

A bench headed by Justice Bibhas Ranjan De will hear the matter. Sen argues in his petition that the land was leased to his father by the then general secretary of Visva-Bharati in 1943 for 99 years, and that he built 'Pratichi' on it.

Sen had previously moved a court in Suri against the eviction notice, but the hearing date is set for May 15, after the university's deadline. Meanwhile, Visva-Bharati has asked the Birbhum district administration to prevent protests over the issue.

On Tuesday, West Bengal Chief Minister Mamata Banerjee instructed state ministers to hold a sit-in demonstration outside Sen's house to protest the eviction order, with the local MLA leading the protest joined by the education and urban development ministers.

However, a Visva-Bharati official clarified that there was no plan to demolish or bulldoze anything on the land and that the university only seeks to regain possession of its property.

The university sent the eviction notice to Sen on April 19, asking him to vacate 13 decimals of the 1.38 acres of land surrounding his residence within May 6.

Visva-Bharati is West Bengal's only central university and was founded by Rabindranath Tagore in 1921, with the prime minister as its chancellor.