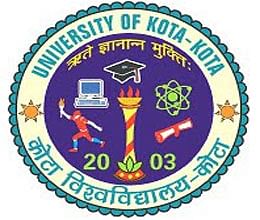 Date Sheet for Examination
http://www.uok.ac.in/examination.html
Syllabus:
http://www.uok.ac.in/syllabus.html
Contact Details:
University Of Kota
Near Kabir Circle, MBS Marg,
Swami Vivekanand Nagar,
Kota - 324 005, Rajasthan
Pincode : 324005
State : Rajasthan
Phone : 0744 - 2472934
E-mail : info@uok.ac.in
Web :
http://www.uok.ac.in/index.html
Contact Persons:
Prof. Madhusudan Sharma
Vice Chancellor
0744 2471037
Ram Niwas, Ras
Registrar
0744-2472934
registrar@uok.ac.in
Prof. S.C. Rajora
Dean
About:
The University of Kota was established in the year 2003 in a culturally rich heritage city Kota situated on the bank of holy river Chambal. The University came into existence through enactment of Government of Rajasthan vide order No. F.21 (2)Edu-4/2003 dated 29-0902003 under the provision of Section-4(1) AND 50(1) of the University of Kota, Kota Act, 2003.

University of KotaPresently, 175 colleges of six districts of the State, namely, Kota, Bundi, Baran, Jhalawar, Karauliand Sawai Madhopur are under the territorial jurisdiction of the University. The University has six faculties, namely, Arts, Science, Social Sciences, Commerce and Management, Law and Education. Various academic programmes are also being run at the campus and in the affiliated colleges of the University.There are different courses that are being run with so smooth and ease to provide education to the students in this vicinity.